Veteran Gille a winner in Big 8 Series, at SPS for first time
2020-07-25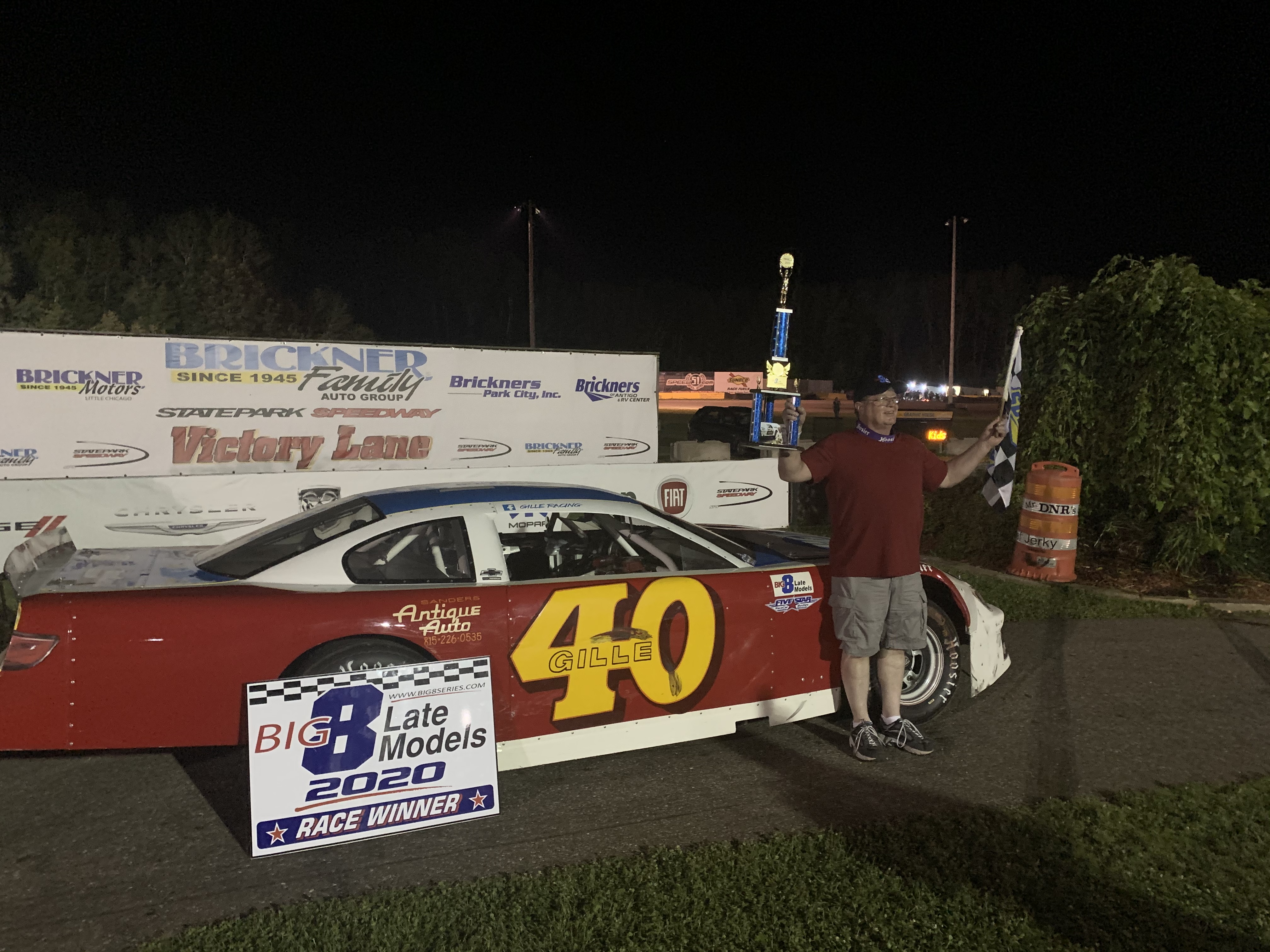 WAUSAU, Wis. (July 24) – The ninth-ever trip by the Big 8 Late Models to State Park Speedway produced a first-time winner in the series on the opening night of the Larry Detjens Memorial. It just turned out to not be the car who took the checkered flag first.

Veteran racer Tom Gille of Winnebago, Ill., finished runner-up on the track but inherited the win Friday when original winner Adam Oxborough was disqualified upon post-race inspection due to an illegal carburetor. The result gave the 59-year old Gille his first-ever Big 8 feature win, his first-ever feature win at State Park Speedway, and his first feature win overall since 2010.

"It stinks, you never want to win that way," said Gille in the pits after the race, happy with his performance but taking little joy in his fellow competitor's fate. "I've had it happen to me too…it's not the way you want to win."

The result nullified a grand night for Oxborough, the New Prague, Minn., native who has raced both super late model and limited late model circuits with the same car while barnstorming around Wisconsin this year. Oxborough appeared to have picked up his first-ever feature win in a late model, but found out after the race the carburetor he had been racing with for years was not up to specs.

Oxborough and Gille were the class of the field for the second half of the 58-lap Big 8 feature, which went green save for a single caution late, a marked contrast to last year's Big 8 race at State Park that saw six yellow flags plus a number of other aborted restart attempts. The two were running 1-2 from the time Oxborough overtook Jacob Nottestad of Stoughton for the lead on lap 29. Both navigated lapped traffic smoothly, but Gille never got closer than a brief sniff of the leader's bumper on laps 34 and 35.

Oxborough kept a steady-if-slight lead most of the way, and was still three car lengths ahead of Gille with 10 to go. Gille closed down to 1 1/2 car lengths when the only caution of the race came out on lap 55 due to a spin by Tyler Hromodka on the backstretch.

The yellow flag actually could've been big trouble for Gille and third-place running Jacob Goede, as Gille spun and Goede had damage on his right front after incidental contact just after the caution came out. Oxborough would clear the top two after the restart with four to go, and Gille would get by Goede on the restart and come across the line second.
Gille won in a Big 8 car for the first time after a pair of previous runner-up finishes. And while he was hungry for a win, he said after the race more than once that he would not have attempted to move Oxborough out of the way to get the top spot.
"I wasn't going to, that's just not how I race," said Gille. "The guys I watched growing up-my dad helped out Tom Reffner for many years. That's not how they raced, that's not what I do."

Nottestad crossed the line third and ended up with a runner-up finish, completing a strong run that saw him lead the first 28 laps. Nottestad started outside Oxborough on the front row, and he took advantage of a good start at the drop of the green to make the early pass on the outside. He built a four car length lead but Oxborough remained in striking distance, and took advantage to make the pass for the lead soon after the leaders starting hitting lapped traffic.

Steve Schultz of Elko, Minn., also posted a career-best Big 8 finish of third, moving all the way up from the 11th starting spot, while fast qualifier Goede came in fourth. Grant Brown of Prior Lake, Minn., rounded out the top five, giving Minnesota drivers three of the top five spots. Big 8 points leader Max Kahler of Caledonia, Ill., finished sixth.


Big 8 Late Models
Fast Time: Jacob Goede, Carver, Minn., 14.306 sec.
First Heat: 1. Adam Oxborough, New Prague, Minn.; 2. Mitch Haver, West Bend; 3. Max Kahler, Caledonia, Ill.; 4. Rayce Haase, Wausau; 5. Hunter Drefahl, Evansville
Second Heat: 1. Steve Schultz, Elko, Minn.; 2. Tom Gille, Winnebago, Ill.; 3. Nick Egan, Kenosha; 4. Jacob Nottestad, Stoughton; 5. Jeff Wakeman, Streator, Ill.
Third Heat: 1. Grant Brown, Prior Lake, Minn.; 2. Goede; 3. Jared Duda, St. Michael, Minn.; 4. Dave Cabelka, Wausau; 5. Tyler Hromodka, Brookfield; 6. Jake Jump, Pardeeville
Feature: 1. Gille; 2. Nottestad; 3. Schultz; 4. Goede; 5. Brown; 6. Kahler; 7. Cabelka; 8. Haase; 9. Haver; 10. Duda; 11. Wakeman; 12. Hromodka; 13. Drefahl; 14. Jump; 15. Egan; 16. Oxborough (DQ)