Kahler Looks for Second Big 8 Rockford Win Saturday Night
2020-09-30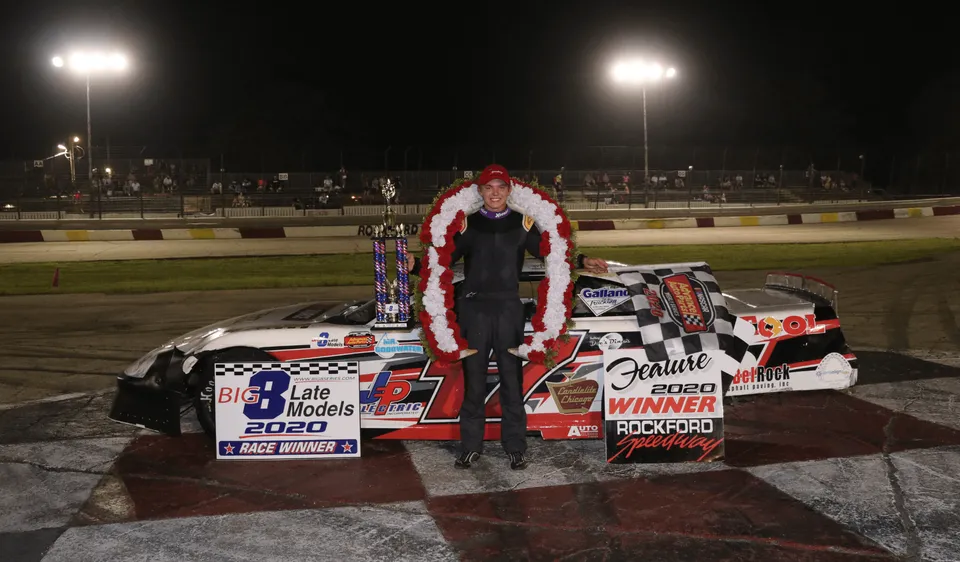 Loves Park, IL- His age matches the number on his car. Max Kahler, driver of the #17 Late Model at Rockford Speedway has three wins this season at his home track and on Saturday Night he will try to make it two consecutive Big 8 Late Model Series wins at the historic quarter mile high banked oval. Kahler heads into this weekend's 55th annual National Short Track Championship having won the most recent Big 8 event at Rockford, celebrating Independence Day in victory lane.
A host of weekly Late Model drivers from around the region are expected for Saturday night's Big 8 Series headliner. Slinger Super Speedway Champion Jacob Nottestad leads Kahler by a mere two points with just two events remaining on the series' calendar. Local favorite Tom Gille is just twenty-six tallies behind the young point leaders and has had the hot hand as of late. Gille, whose son and brother are both former Rockford track champions was victorious in late August at Rockford, won his first Big 8 event in late July at State Park Speedway in Wausau and looks to narrow the point gap in an event he finished second in a year ago. The lead three are just ahead of 2019 Hawkeye Downs Big 8 winner Nick Egan and former NASCAR Division IV National Champion, Minnesota's Grant Brown.
Joining the Big 8 Late Model Series on the Saturday Night line-up is the Midwest Dash Series for a 40 lap feature. Phil Malouf of Manitowish Waters, WI currently leads the Dash points over Edgerton native Lyle Phillips. Malouf is a former bracket winner at Rockford's annual Bahama Bracket Nationals. Both divisions will also race their preliminary events Saturday night as will the Super Late Models who will then race the 200 lap NSTC Championship feature on Sunday afternoon.
'One Great Racing Weekend' will feature three days of racing October 2-4. Main gates will open at 3pm on Friday with Faster Than a Speeding Bullet Qualifying at 4pm, racing will begin at 6pm. Saturday's spectator gates open at 2pm with qualifications at 2:15pm and racing at 5pm. Sunday morning will see gates open at 11am for a fan autograph session, with racing beginning at 1pm on Sunday afternoon. Friday admission prices are $18 for adults, $8 for kids ages 6-11 with 'tots' ages five and under admitted free. Adult admission is $22 on Saturday with kids tickets at $11 and ages five and under $4. Sunday prices are $25 for adults, $12 for kids and $6 for tots. Seating is general admission and at a limited capacity. Social distancing is required and masks are recommended. For additional information call the Speedway Box Office at 815-633-1500 or visit www.rockfordspeedway.com
Former Big 8 NSTC Winners
2019- Dale Nottestad
2018- Michael Bilderback
2017- Michael Bilderback
2016- Casey Johnson
2015- Michael Bilderback
2014- Casey Johnson
2013- Jon Reynolds, Jr
2012- Jon Reynolds, Jr
2011- Ty Majeski
2010- Jon Reynolds, Jr
2009- Ross Kenseth
2008- Jon Reynolds, Jr
2007- Ricky Bilderback (Overall), Ryan Carlson, Jeremy Miller
2006- Ricky Bilderback (Overall), Ryan Carlson, Mike Beyer
2005- Tim Noble
2004- Jon Reynolds, Sr (First Ever Big 8 Event)