BILDERBACK DRIVES AWAY WITH ANOTHER BIG 8 NATIONAL SHORT TRACK CHAMPIONSHIP WIN AT ROCKFORD
2020-10-04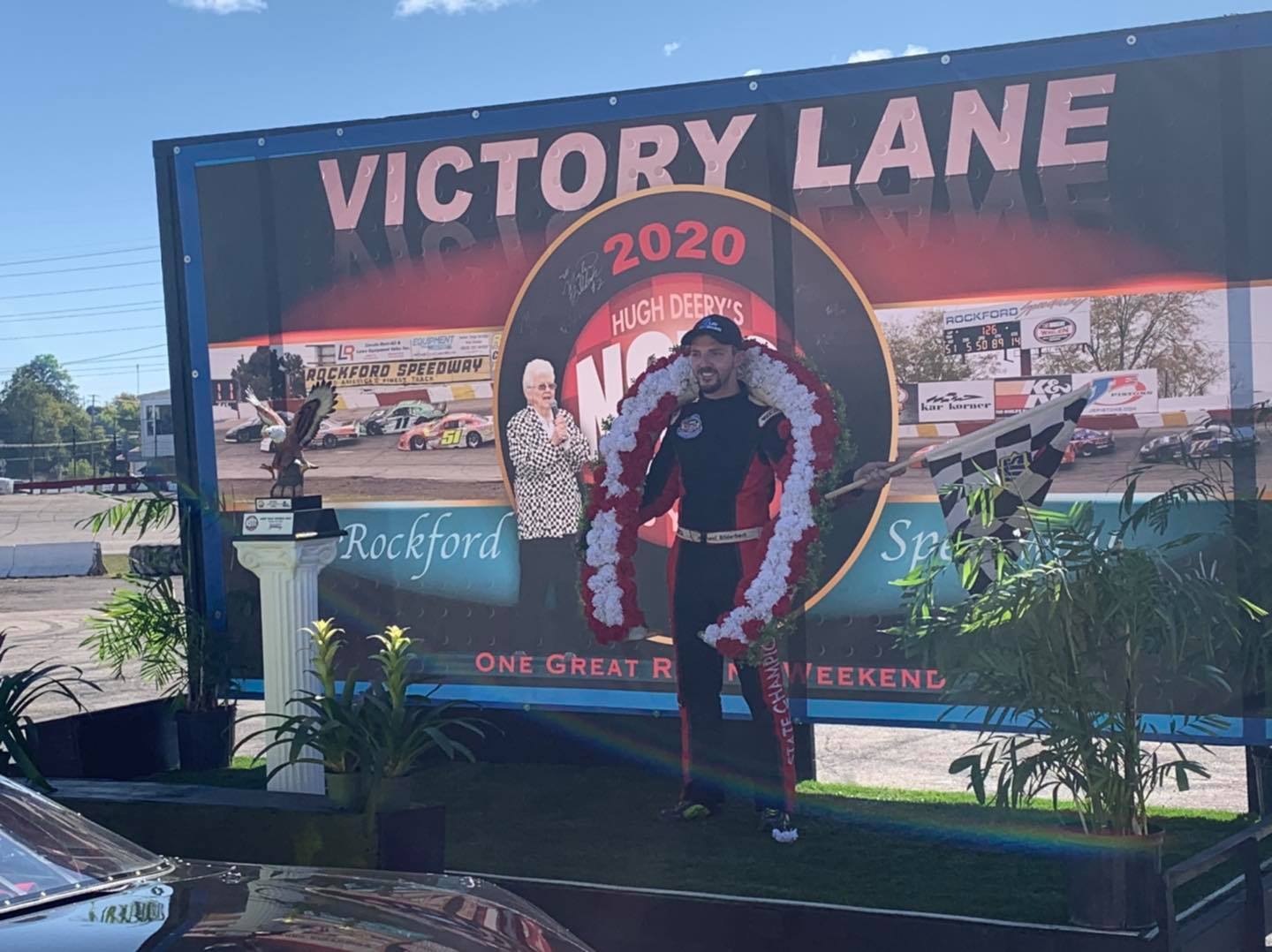 At the Rockford Speedway, the name Bilderback is just as important to the track's history as are the names of Shear, Wilberg, Reynolds, Knaus and Reynolds. Uncle Ricky and nephew Michael has been the drivers to beat since 2000 as they have won a combined ten NASCAR Late Model track championships at Rockford and a combined five National Short Track Championship Big 8 Late Model Series wins. Like it does from time to time, the rain played havoc with Saturday's activities at the 55th Annual National Short Track Championships and pushed them back to Sunday. It made no difference to Michael which day they ran the 108 lap Big 8 Late Model feature. Bilderback powered past Ryan Gutknecht just before reaching the one-quarter mark of the race and was soundly in control the rest of the way. Bilderback had a three-quarter lap lead on the field as he scored a dominant fourth Big 8 victory at the National Short Track Championships.
Ryan Gutknecht shot past pole sitter Mitch Haver entering turn one to take the lead at the start of 108 lap feature event. Dennis Smith, Jr. charged by Haver down the back straight seconds later to move into second. Max Kahler dove under Haver in turns three and four to take over third on lap two. Jacob Nottestad caught and passed Kahler for third coming out of turn two on lap four. Nottestad needed a few laps before he made his move around Smith to settle into second. On lap nine, Kahler returned to the top three as he surged past Smith down the back straight. The first caution period came out on lap 11 when Haver hit the turn three wall and collected Mike Lloyd in the process. Shortly after the restart, Michael Bilderback began to make his presence known as he booted Kahler out of the top three. On lap 12, Bilderback dove low to charge past Nottestad to take over the runner-up spot. Yellow flew again on lap 18 when Lloyd and Tyler Hromadka collected each other and hit the turn three wall hard. Off the restart, Nottestad got another shot at Bilderback as Nottestad drove right by him to take back second on lap 19.
The seesaw battle between Nottestad and Bilderback ended on lap 24 when Bilderback drove past Nottestad to take over second for good. Bilderback dove low to power his way past Gutknecht to take over the top spot on lap 26. Nottestad got a run on the outside of Gutknecht on lap 30 to move up to second place. Kahler and Bobby Wilberg made contact with each other coming out of turn four to complete lap 28. Entering turn one, the contact cut down Wilberg's left rear tire and he collided hard with the turn one wall to bring out the third and final yellow of the race
Five-time Big 8 Late Model Series champion Jeremy Miller surged ahead of Gutknecht to take over third on the restart. As Bilderback received the crossed flags to mark the halfway point of the race, he held a quarter of a lap lead over Nottestad and Miller. Nottestad was losing touch with Bilderback as the leader's advantage continued to grow with the lap count dwindling down. At the same time, Miller was slowly making up ground on Nottestad for second. Miller got up to Nottestad's rear bumper with 26 laps to go and began to patiently wait for the right time to make his move. That move came with 20 laps left as Miller dove low entering turn one to surge ahead of Nottestad and take over second. By that time, Bilderback had built up a huge advantage thanks to the caution free racing. Bilderback lapped the field up to seventh place Gutknecht and took the checkered flag with a commanding nine and a quarter second lead. The victory was Bilderback's third National Short Track Championship in the last four years, and his fourth overall. Jeremy Miller picked up the prestegious "Faster Than a Speeding Bullet" award as he topped the time sheet in qualifying on Saturday with a quick lap of 14.659 seconds.
Jacob Nottestad opens up his lead in the Big 8 Late Model championship standings over Max Kahler a little more as it all comes down to the final race of the season. The Big 8 Late Model Series will decide their 2020 champion on October 10, better known as 'Championship Saturday', during the 51st Annual Oktoberfest Race Weekend at the LaCrosse Fairgrounds Speedway in West Salem, Wisconsin. 38 laps of feature racing is all that stands between Nottestad and adding another championship to his second straight Slinger Late Model track title. Will one of the other Big 8 Late Model regulars make the final outcome interesting? Will one of the LaCrosse Late Models try to crash the party? Check out the Big 8 Late Model Series' Facebook page for the latest news and updates leading up to Oktoberfest. Be sure to visit big8latemodels.com for stats and more information.
55th Annual National Short Track Championships
Rockford Speedway/Loves Park, Illinois
Feature (108 laps): 1. Michael Bilderback (South Beloit, IL), 2. Jeremy Miller (Rockford, IL), 3. Jacob Nottestad (Cambridge, WI), 4. Jon Reynolds, Jr. (Loves Park, IL), 5. Max Kahler (Caledonia, IL), 6. Jeff Storm (Burlington, WI), 7. Ryan Gutknecht (Oak Creek, WI), 8. Tom Berens (Slinger, WI), 9. Dennis Smith, Jr. (South Beloit, IL), 10. Hunter Drefahl (Madison, WI), 11. Tom Jasinski (Pewaukee, WI), 12. Jeff Wakemn (Streator, IL), 13. Jacob Vanoskey (Hartford, WI), 14. Willie Nelson (Solon MIlls, IL), 15. David Thomason (Poplar Grove, IL), 16. Jerry Stafford II (South Beloit, IL), 17. Tom Gille (Winnebago, IL), 18. Tyler Hromadka (Colgate, WI), 19. Bobby Wilberg (Stoughton, WI), 20. Mike Lloyd (Davis, IL), 21. Mitch Haver (West Bend, WI), 22. John Beinlich (Schaumburg, IL), 23. Nick Egan (Slinger, WI) (DNS)
Qualifying: 1. Miller 13.659, 2. Nottestad 13.708, 3. Reynolds, Jr. 13.745, 4. Egan 13.758, 5. Wilberg 13.830, 6. Kahler 13.845, 7. Bilderback 13.874, 8. Smith, Jr. 13.885, 9. Vanoskey 13.934, 10. Gutknecht 13.950, 11. Haver 14.002, 12. Storm 14.008, 13. Beinlich 14.032, 14. Lloyd 14.047, 15. Gille 14.090, 16. Jasinski 14.113, 17. Stafford II 14.117, 18. Hromadka 14.198, 19. Berens 14.236, 20. Thomason 14.285, 21. Wakeman 14.393, 22. Nelson 14.404, 23. Drefahl 14.513