Miller Victorious at Milwaukee
2021-08-30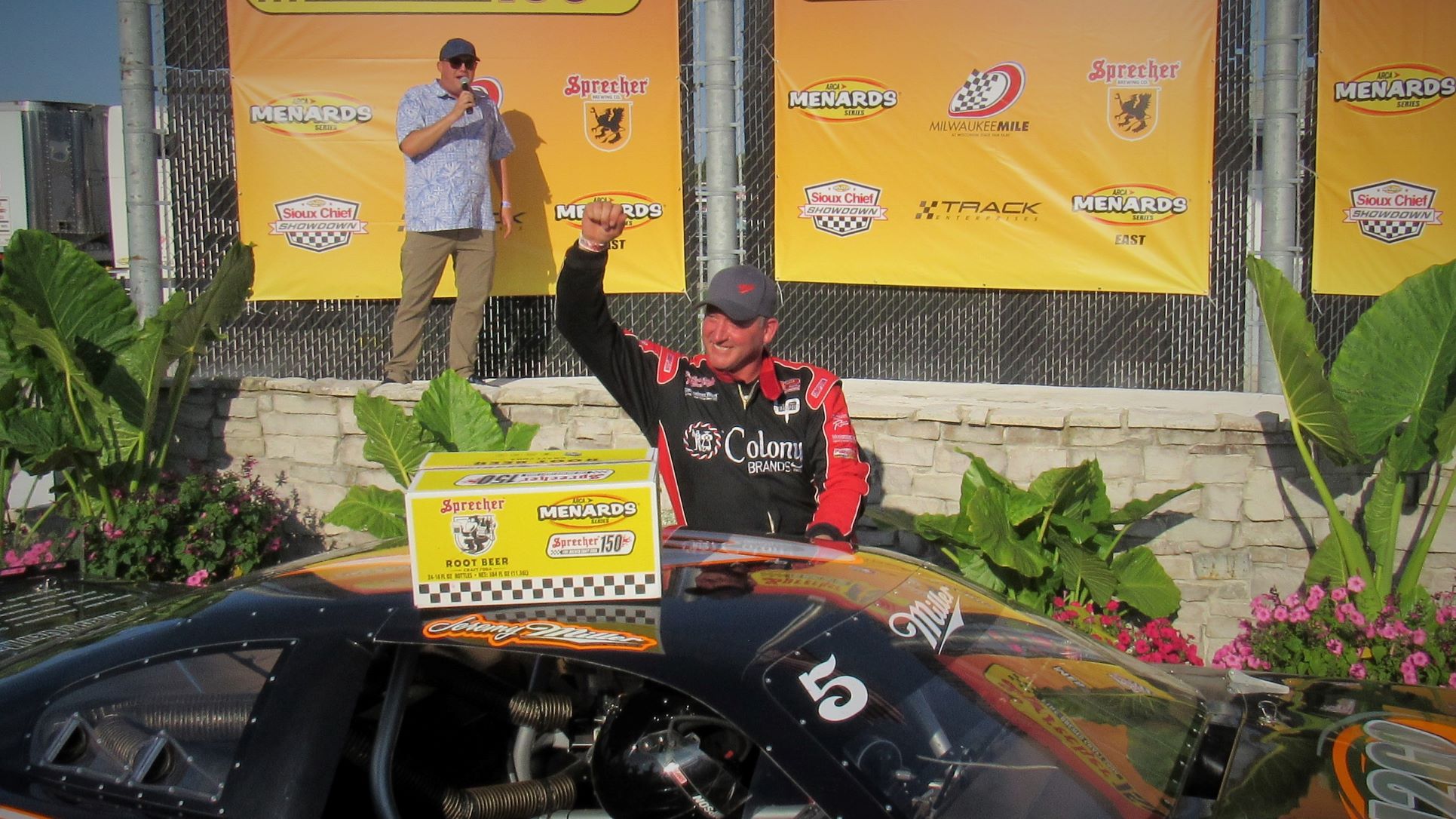 Jeremy Miller captures victory once again at the historic Milwaukee Mile in West Allis, WI. Miller has claimed victory in two of the three visits to the Mile. Starting 12th, Miller took the lead on lap 8 and continued to power his machine to lap 35 to claim victory.
Rounding out the top five are Austin Nason, Jerry Mueller, Randy Sargent, and Tom Berens. Full Results are listed below.
Only two events remain in the 2021 season for the Big 8 Late Models. The series is back in action October 2nd and 3rd as part of the long running National Short Track Championships at Rockford Speedway.
One week later the 2021 champion will be crowned at the 52nd Oktoberfest Race Weekend at LaCrosse Fairgrounds Speedway.
8/29/2021 - Big 8 Series Results... Page 1 of 1
Big 8 Late Model
A-Main 01 -- 1. Jeremy Miller, Rockford; 2. Austin Nason, Roscoe; 3. Jerry Mueller, Richfield, Wis; 4. Randy
Sargent (r), South Beloit; 5. Tom Berens (r), Slinger, Wis; 6. Jesse Bernhagen, Willard, Wis; 7. William Rece,
Stoughton, Wis; 8. Grant Brown, Prior Lake, Minn.; 9. Travis Rodewald, Manitowoc, Wis; 10. Mitch Haver, West
Bend, Wis; 11. Jordan DeVoy, Lake Geneva, Wis; 12. John Beinlich, Lincolnshire; 13. Nick Egan, Lomira, Wis; 14.
Jim Olson, Harvard; 15. Noah Eisenhower, Freeport; 16. Willie Nelson, Solon Mills; 17. Hanna Raley, Fall River,
Wis; 18. Jake Jump, Pardeeville, Wis; 19. Mike Lloyd, Davis; 20. Tyler Hromadka, Colgate, Wis; 21. Darren Wolke,
Prior Lake, Minn.; 22. McKayla Adams, Sun Prairie, Wis; 23. Rob Christen, Holmen, Wis; 24. Tom Jasinski,
Pewaukee, Wis; 25. Jeff Wakeman, Streator; 26. Paul Dygon, Windlake, Wis; 27. Tim Sargent, South Beloit; 28.
Jon Reynolds, Jr., Loves Park; 29. Ryan Goldade, Edgerton, Wis; 30. Jacob Vanoskey, Hartford, Wis; 31. Zack
Riddle, Oregon, Wis; 32. Michael Bilderback, South Beloit; 33. Zach Braun, Slinger, Wis(dns); 34. Tyler Schley,
Colgate, Wis (dns); 35. Casey Johnson, Edgerton, Wis (dns); 36. Gary Krueger, Edgerton, Wis (dns).
Time Trial -- 1. Michael Bilderback, South Beloit; 2. Austin Nason, Roscoe; 3. Zack Riddle, Oregon, Wis; 4.
Jeremy Miller, Rockford; 5. Jesse Bernhagen, Willard, Wis; 6. Travis Rodewald, Manitowoc, Wis; 7. Nick Egan,
Lomira, Wis; 8. Jerry Mueller, Richfield, Wis; 9. Jon Reynolds, Jr., Loves Park; 10. Casey Johnson, Edgerton, Wis;
11. Randy Sargent (r), South Beloit; 12. John Beinlich, Lincolnshire; 13. Tom Berens (r), Slinger, Wis; 14. Jordan
DeVoy, Lake Geneva, Wis; 15. William Rece, Stoughton, Wis; 16. Ryan Goldade, Edgerton, Wis; 17. Darren
Wolke, Prior Lake, Minn.; 18. Grant Brown, Prior Lake, Minn.; 19. Mitch Haver, West Bend, Wis; 20. Tim Sargent,
South Beloit; 21. Mike Lloyd, Davis; 22. Hanna Raley, Fall River, Wis; 23. Tyler Schley, Colgate, Wis; 24. Jake
Jump, Pardeeville, Wis; 25. Noah Eisenhower, Freeport; 26. Jim Olson, Harvard; 27. Zach Braun, Slinger, Wis; 28.
Jacob Vanoskey, Hartford, Wis; 29. Tyler Hromadka, Colgate, Wis; 30. Gary Krueger, Edgerton, Wis; 31. Jeff
Wakeman, Streator; 32. McKayla Adams, Sun Prairie, Wis; 33. Tom Jasinski, Pewaukee, Wis; 34. Rob Christen,
Holmen, Wis; 35. Paul Dygon, Windlake, Wis; 36. Willie Nelson, Solon Mills.
Printed 8/30/2021 7:48:21 AM with ScoreKeeper™ 3.235.003