Nason wins NSTC at Rockford
2021-10-03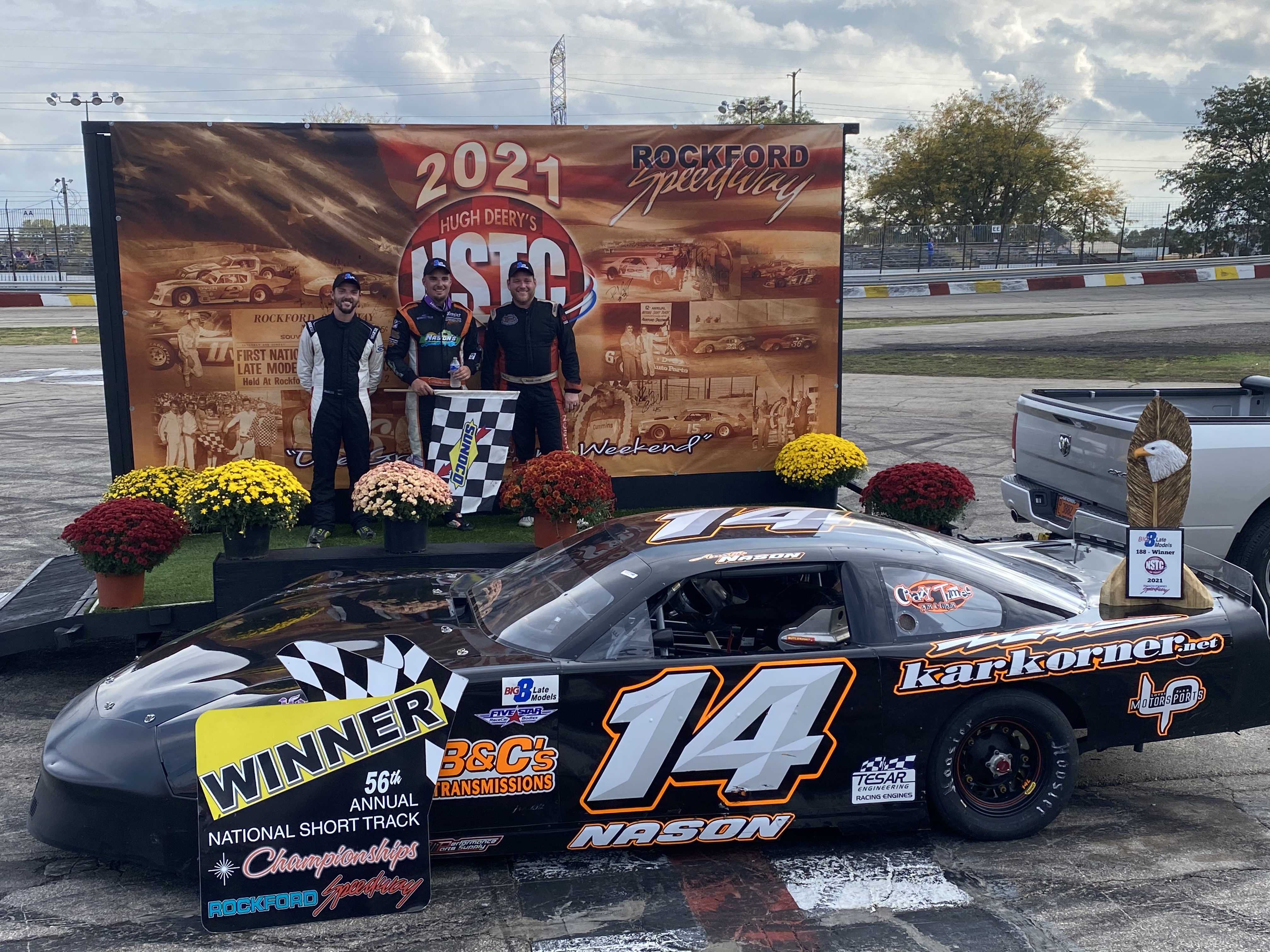 By Stan Kalwasinski
Loves Park, Ill., October 3—Fulfilling a life-long racing dream, Austin Nason came home the winner of the 56th annual National Short Track Championships Big 8 Late Model Series stock car special at Rockford Speedway Sunday afternoon.
As a youngster, Nason, watched his dad, Fred, compete at the quarter-mile, high-banked, paved oval, joining the competition himself when he was a teenager. Sunday afternoon saw the 25-year-old Nason, from Roscoe, Ill., score a convincing victory in the 188-lap contest, taking the checkered flag with a 1.552-second margin over second place finisher, Jake Gille. Nason picked up $6,008 for his winning effort as he became the race's 32nd different winner during its history.
At about the 117-lap mark, Nason wheeled his karkorner.net/B&C's Transmissions/Nason's Landscaping/Erickson Auto Parts/Crazy Times-sponsored Chevrolet No. 14 passed Gille for the lead and never looked back, slowed only by four yellow flags that flew as Nason held the number one spot. Finishing behind Nason and Gille were three-time Rockford late model titlist and early race leader Michael Bilderback, Dennis Smith Jr. and two-time NSTC winner Casey Johnson. Jacob Nottestad, Grant Brown, Josh Thiering, Willie Nelson and seven-time Rockford track champion Bobby Wilberg rounded out the "top 10."
"It's awesome. I've been chasing this thing since I was 16," said Nason after the race. "I've finished second and I've wrecked. This weekend is a dream come true. We won three out of four of the late model races this weekend. I didn't want to see all those yellows (flags). We fired off real good on the restarts but it took five laps to really get going.
"I watched my dad race here. I remember being a little kid here and watching from the fence and playing in the playground. I'm glad to finally be here (in victory lane)."
Defending race winner Max Kahler grabbed Big 8 fast time honors on Saturday. Starting 10th in the feature field, Kahler was caught up in a multi-car melee between turns one and two on the second lap and was knocked out of the race, completing only one lap. Heat races on Saturday evening, which set the field, were won by Nason, Johnson, Thiering and Wilberg. Smith won the 20-lap last chance race on Sunday.
Saturday saw Nason and Rich Bickle Jr. share victory honors in the Rich Bickle Twin 45s Invitational for super late models.
Winning for the fourth time in his career during Rockford's NSTC weekend, Ron Vandermeir Jr. captured the 50-lap Mid Am Racing Series main event. The Sheridan, Ill., racer drove his Chevy to the checkered flag, finishing ahead of Timmy Stewart by 5.423 seconds. Fast qualifier Kenny Benson ended up third followed by Cody Clubb, Dale Lecus Jr. and Clay Curts. A field of 19 started the 50 lapper.
In other races on Sunday, 12-year-old Brandyn Wind of Woodridge, Ill., won the 25-lap American Super Cup Series feature race ahead of Mick Ellis and Sean Eurick while Tom Gille, in the John Knaus-tribute '81 Camaro, came home in the top spot in the Northern Outlaw Vintage Series headliner.
NSTC Finish:
Austin Nason, Jake Gille, Michael Bilderback, Dennis Smith Jr., Casey Johnson, Jacob Nottestad, Grant Brown, Josh Thiering, Willie Nelson, Bobby Wilberg, Jim Olson, Tyler Hromadka, Mitch Haver, Jake Vanoskey, Tom Berens, Jerry Eckhardt, Trevor Robinson, Jerry Mueller, RJ Braun, John Beinlich, Jon Reynolds Jr., Hunter Drefahl, Max Kahler, Max Houseweart, Adam Cartwright