THE EXCITEMENT OF STATE PARK SPEEDWAY UP NEXT FOR THE BIG 8 LATE MODEL SERIES
2022-07-20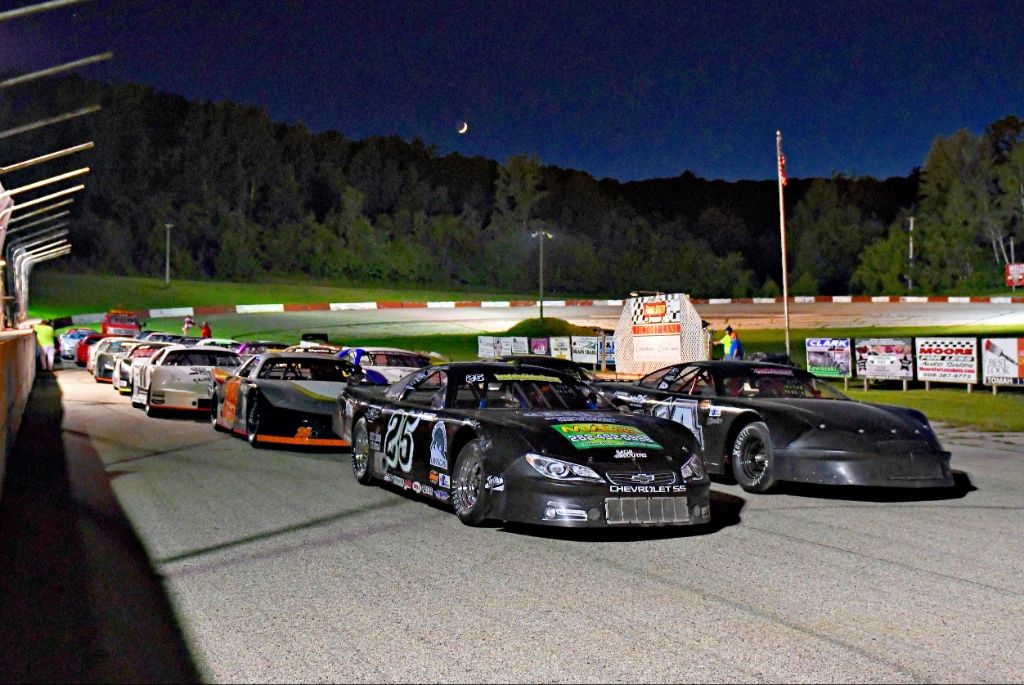 By: Tom Ace
Two things are always certain.
The sun rises in the East.
The Big 8 Late Model Series at State Park Speedway produces exciting short track racing.
This Friday night July 22, "the Best Weekly Warriors in the Country" make their annual summertime trek north to fiddle and fidget around the unique bullring at the base of Rib Mountain in Wausau Wisconsin.
This weekend marks the eleventh trip to State Park Speedway (SPS) for the Big 8 Late Model Series, taking part in the prestigious Larry Detjens Memorial Weekend. Since 2012, seven different drivers have laid claim to victory on the tricky quarter mile and no driver has tasted victory more than Jon Reynolds Jr. The defending Big 8 Series champion is a three-time Big 8 Detjens (2014, 2018, 2021) and is looking for some positive momentum in a season that has been rough for the four-time Rockford Speedway champion.
Current Big 8 Late Model Series point leader Dale Nottestad has experienced great success at the Big 8 Detjens but has yet to check into the victory lane. Nottestad has three top five finishes at SPS (2nd twice and 3rd once) and has finished 2nd, 8th and 3rd in the first three races of the 2022 Big 8 Series season. His traditional consistency has notched Nottestad a 32-point advantage in the championship standings ahead of Will Rece, who was the runner up finisher at Tomah Sparta Speedway just three weeks ago.
Two time Big 8 Late Model Series champion Casey Johnson makes his return to Big 8 competition Friday night at SPS, a track where he has fared well. Johnson won as part of the Series' second ever trip to Wausau in 2013 and has finished in the top three on four different occasions. The Edgerton Wisconsin resident is also a former winner of the Larry Detjens Memorial Super Late Model race and is pulling double duty this weekend running with the Big 8 Series Friday night and with the ARCA Midwest Tour Saturday night, where he is the current point leader.
There's a decent chance the race could be won by a driver from the state of Minnesota. Lakeville's Michael Ostdiek returns to Wausau this weekend and is looking to become a multi-time Big 8 Detjens winner. Ostdiek took top honors in the Big 8 Detjens back in 2016 and has a 2nd place finish (2018) and a third-place finish (2017) to his credit. Jordan's Grant Brown has finished in the top five three times in the last four years at SPS, coming up just one spot shy of victory during last season's Big 8 Detjens while also setting fast time at last year's event. Montgomery's Adam Oxborough crossed the line first in at the 2020 Big 8 Detjens but lost the victory in post-race tech and is ready for redemption this Friday night. New Market's Owin Giles has shown speed in his maiden voyage along the Big 8 tour in 2022 and is a two-time winner this year at his hometrack, Elko Speedway.
Jerry Mueller turned a bad night into a good night at Tomah Sparta Speedway three weeks ago and escaped western Wisconsin just one point out of second place in the Big 8 points. The Richfield Wisconsin driver has one top five to his credit at SPS (5th in 2018). Lake Mills' Stephen Scheel is seeing many of the tracks along the Big 8 trail for the first time this season and currently is fourth place in the standings. Reigning Big 8 Rookie of the Year Randy Sargent sits sixth in the points while fellow South Beloit resident and current Big 8 Rookie Brandon Laing sits outside the top ten in points after a tough night in Tomah. Richmond Illinois' Willie Nelson has finished 10th at both Rockford's Spring Classic and Tomah's Firecracker 58 and is looking to jump into the top ten in Series points at SPS.
The field also includes Iowa Rookies Kody King and Brian Allen, young female racers Hanna Raley and McKayla Adams and Wisconsin's Tyler Hromadka, who makes his return to Big 8 Series action this Friday night.
For more information on State Park Speedway and the Larry Detjens Memorial Weekend, please visit stateparkspeedway.com
For more information on the Big 8 Late Model Series, please visit big8latemodels.com.
EVENT SCHEDULE
LARRY DETJENS MEMORIAL RACE
STATE PARK SPEEDWAY
FRIDAY JULY 22
3:00 PM - Pit Gates Open
4:00 PM – Rotating Practice Begins
4:30 PM – Spectator Gates Open
6:00 PM – Qualifying
7:00 PM – RACING
Racing Program includes Prelims and a 58-lap feature for the Big 8 Late Models plus Mini Stocks, Legends and Bandoleros as well as Music by TJ Morrow in the Speedway Bar after the Races!
BIG 8 LATE MODEL SERIES POINT STANDINGS
(Top 10, following July 1 at Tomah-Sparta Speedway)
| | | | |
| --- | --- | --- | --- |
| 1 | 2 | Dale Nottestad | 300 |
| 2 | 15 | Will Rece | 268 |
| 3 | 49 | Jerry Mueller | 267 |
| 4 | 4 | Stephen Scheel | 252 |
| 5 | 11 | Randy Sargent | 236 |
| 6 | 61 | Franc Beldowski | 233 |
| 7 | 24 | Jim Olson | 220 |
| 8 | X | Jon Reynolds Jr | 216 |
| 9 | 14K | Kody King | 203 |
| 10 | 6 | Owin Giles | 189 |