BIG MONEY AND BIGGER CHAMPIONSHIPS HEADLINE SATURDAY AT OKTOBERFEST
2022-10-08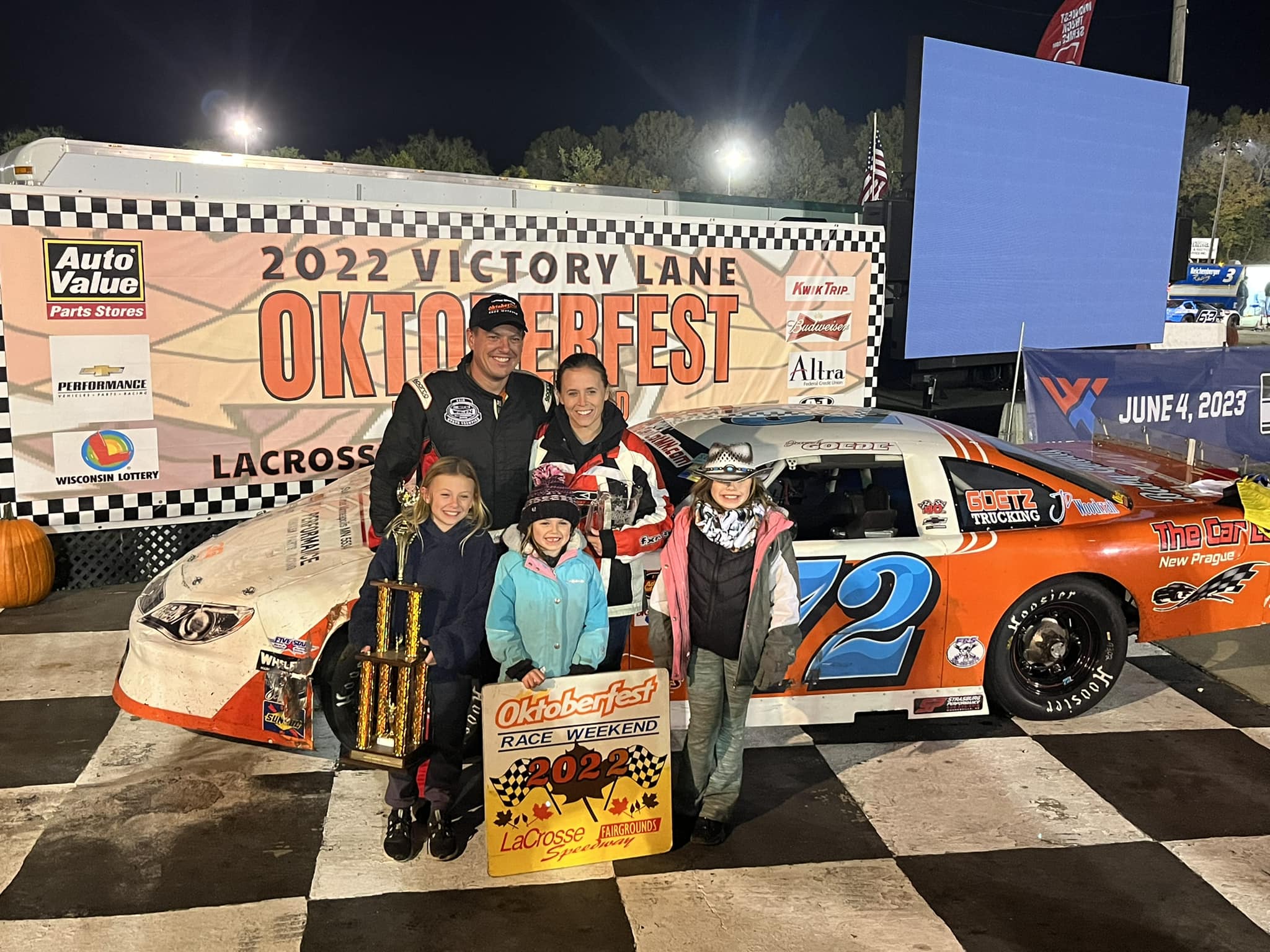 By: Paul Reichert
October 8, 2022
The winds finally blew the clouds out of the Coulee Region to give us a picture perfect sunny day for 'Championship Saturday' during the 53rd Oktoberfest Race Weekend at the LaCrosse Speedway. Despite there being a little nip in the air still, the racing action on the big track was still as hot and competitive as the previous two nights. Throw in drivers seeking their first ever championships or looking to make history with multiple titles and you have the makings for a memorable night of racing. Jacob Goede captured the win for a third straight year in the Big 8 Late Model feature, while Dale Nttestad had a mechanical issue with his own car but managed to finish in a backup car to win his first Big 8 title.
Grant Brown (Prior Lake, MN) and Ryan Kamish (Farmington, MN) charged by Ryan Varner (MInnetonka, MN) to show the way at the start of the 38 lap Big 8 Late Model feature. Kamish would follow closely behind Brown for the first half of the race as he attempted to find a way into the lead. Bryan Wrolstad (Faribault, MN) spun out in turn two on lap eight to bring out the lone caution period. Kamish went right back to work challenging Brown for the race lead, but as they approached the halfway mark Jacob Goede (Carver, MN) would put the pressure on the lead duo. Two laps after halfway Goede powered under Kamish to claim the runner-up spot. Goede stuck to the low line to power under Brown to settle into the lead with 14 laps remaining. For much of the last 14 laps Goede would have a mirror full of Steve Bachman (Bangor, WI), but Goede pulled away over the final few laps to win the Big 8 for the third year in a row. Borrowing the car of Adam Oxborough (Montgomery, MN) after suffering an issue in his qualifying race, Dale Nottestad (Cambridge, WI) brought it home in one piece to capture his first career Big 8 championship.
In the 25 lap Mid-Am Racing Series feature, Steve Blair (Brownsburg, IN) shot by Nathan Borchardt (Prior Lake, MN) to lead the way. Blair would build up a sizable lead only to have Jim Cormack (Plover, WI) eat up the deficit. With ten laps remaining Cormack powered by Blair on the outside to take over the race lead. Rick Redig-Tackman (Waukesha, WI) bounced off the front straight wall after losing a right front tire with five laps to go. Dan Gilster (West Salem, WI) and Blair also suffered flat tires as well, but everyone was able to replace their flat and return to competition. Clay Curts took advantage of his runner-up spot on the restart and powered around Cormack with four laps to go to move into the lead. Curts would pull await over the final few laps to score the biggest win of his career. A mechanical issue with six laps to go forced Ron Vandermier, Jr. (Sheridan, IL) to slow his pace. He managed to bring the car home in one piece to lock up his first consecutive championship and tie the record for most series championships by James Swan (Lake Geneva, WI).
Jake Halterman took the lead at the start of the 20 lap Midwest Dash Series feature. After a yellow flag for Merek Pankow (Jefferson, WI) tagging the turn one wall, Mark English (Edgerton, WI) shot past Halterman to settle into the lead. The hard charging Karter Stark (Marshall, WI)shot past English on lap five to become the new leader of the race. The championship duo would soon make their presence known to the field. Phil Malouf (Manitowish Waters, WI) powered by Stark to settle into the lead lap nine while Scott Ciesielski (Amherst, WI) charged by Stark to settle into second a lap later. For the second half of the race Ciesielski would be in hot pursuit of Malouf as they battled over the race win and the series championship. Ciesielski tried a few times to power around Malouf on the outside, but Malouf got a better run coming out of turn two. Malouf would keep Ciesielski at bay over the closing laps to claim another Oktoberfest checkered flag win and would drive away with another series championship.
The 25 lap Midwest Truck Series feature saw pole sitter Danielle Behn (Waupaca, WI) drive out to an early lead.(Midwest Truck Series feature. As the rest of the field tried to sort itself out, Behn was quickly opening up a huge lead on the field. James Swan got his left side wheels on the grass down the back straight on lap 11, but Swan was able to gather things together and get his truck back on the tracks. After the halfway mark, Ty Majeski (Seymour, WI) began to make his presence known to the front of the field. Driving a brand new Toby Race Track #001, Majeski moved into second with six laps left as he slowly began to eat up the distance between himself and Behn. A late yellow came out with two laps remaining for a spinningDillon Schwanbeck (Poynette, WI). Majeski wasted little time in getting around Behn down the back straight for the number one position. Majeski would christen the new Toby Race Truck chassis with its first ever victory.
Matthew Henderson would be the final car to turn a lap time in ARCA Midwest Tour qualifying and he would race up to the top of the board with a fast lap time of 18.714 seconds. After receiving his 'Faster Than a Speeding Bullet' trophy, Henderson was first to be offered the Ultimate Challenge bonus of at least $7,600. If he accepted, he would start last in the 200 lap main event on Sunday to win it. After Henderson turned it down, second fastest qualifier Ty Majeski did accept the Ultimate Challenge bonus. Jeff Storm built up a huge lead over Dan Fredrickson to win the Odd Dash, while Dean Cornelius fought back the challenges of Cole Butcher to win the Even Dash. Tristan Swanson got by racelong leader Griffin McGrath on the last lap to win the qualifying race. All 28 cards in attendance will start the big 200 lap feature on Sunday including Jonathan Eilen who was in the process of installing his third different engine of the weekend into his racecar.
The 53rd Annual Oktoberfest Race Weekend will feature an exciting conclusion on Sunday, October 9. The ARCA Midwest Tour will go out with a bang with their big 200 lap season finale feature to decide the Oktoberest Champion and wrap up the battle for the 2022 ARCA Midwest Tour Championship. The Gandrud Chevrolet Cratetoberfest 602 Challenge features all sorts of cars from Late Models to Modifieds and even the Midwest Trucks using 602 motors. The real drama will happen when the drawing takes place for a brand new 602 crate motor, and we have witnessed plenty of drama in the first three years of the event. The Upper Midwest Vintage Racing Series will take up back in time to the fabulous heyday of racing, and you may even witness a famous driver from the past compete. Gates open at 8, qualifying for the Cratetoberfest 602 goes on the clock at 10, the Autograph Session starts at 10:45 and the final racing action of the year goes green at high Noon.
For more information about the LaCrosse Speedway or the 2022 schedule of events, call the track office at 608-786-1525 or visit our web site at lacrossespeedway.com. For more information about the 53rd Annual Oktoberfest Race Weekend, check out oktoberfestraceweekend.com. LaCrosse Speedway is proud to be a NASCAR Hometrack, part of the NASCAR Advance Auto Parts Weekly Series.
RESULTS
Big 8 Late Model Series
Feature (38 laps): 1. Jacob Goede, 2. Steve Bachman, 3. Grant Brown, 4. Randy Sargent, 5. Mike Carlson, 6. Jackson Lewis, 7. Ryan Kamish, 8. Jon Reynolds, Jr., 9. Jeremy Miller, 10. Franc Beldowski, 11. Adam Bendzick, 12. Ryan Varner, 13. Jesse Bernhagen, 14. Stephen Scheel, 15. Will Rece, 16. Bryan Wrolstad, 17. Owin Giles, 18. Dusty Mann, 19. Jerry Mueller, 20. Thayrin Rezin, 21. Ridge Oien, 22. Dale Nottestad, 23. Joseph Scholze, 24. Zach Braun, 25. Mitch Haver, 26. Darren Wolke
B-Feature (18 laps): 1. Thayrin Rezin, 2. Mitch Haver, 3. Dusty Mann, 4. Ridge Oien, 5. Jason Erickson, 6. Zach Braun, 7. Willie Nelson, 8. Darren Wolke, 9. Joseph Scholze, 10. Dale Nottestad, 11. Hanna Raley, 12. Dan Heying, 13. McKayla Adams
Qualifying Feature #1 (20 laps): 1. Grant Brown, 2. Jesse Bernhagen, 3. Will Rece, 4. Stephen Scheel, 5. Franc Beldowski, 6. Adam Bendzick, 7. Jacob Goede, 8. Bryan Wrolstad, 9. Ryan Kamish, 10. Zach Braun, 11. Ridge Oien, 12. Willie Nelson, 13. Joseph Scholze, 14. Andrew Buhrow, 15. Barry Tanner, 16. Gib Scharpf, 17. Riley Stenjem, 18. Jason Stark, 19. Zach Riddle
Qualifying Feature #2 (20 laps): 1. Owin Giles, 2. Jon Reynolds, Jr., 3. Mike Carlson, 4. Steve Bachman, 5. Jeremy Miller, 6. Ryan Varner, 7. Jackson Lewis, 8. Randy Sargent, 9. Jerry Mueller, 10. Mitch Haver, 11. Dusty Mann, 12. Jason Erickson, 13. Darren Wolke, 14. Dan Heying, 15. McKayla Adams, 16. Hanna Raley, 17. Dale Nottestad, 18. Michael Haggar, 19. Thayrin Rezin
Qualifying: 1. Jacob Goede, 2. Jeremy Miller, 3. Adam Bendzick, 4. Mike Carlson, 5. Bryan Wrolstad, 6. Steve Bachman, 7. Zach Riddle, 8. Jackson Lewis, 9. Franc Beldowski, 10. Randy Sargent, 11. Ryan Kamish, 12. Dusty Mann, 13. Jon Reynolds, Jr., 14. Jesse Bernhagen, 15. Ryan Varner, 16. Jason Stark, 17. Michael Haggar, 18. Stephen Scheel, 19. Dale Nottestad, 20. Grant Brown, 21. Owin Giles, 22. Gib Scharpf, 23. Adam Oxborough, 24. Zach Braun, 25. Mark Rezin, 26. Will Rece, 27. Jerry Mueller, 28. Riley Stenjem, 29. Mitchell Haver, 30. Ridge Oien, 31. Darren Wolke, 32. Willie Nelson, 33. Jason Erickson, 34. Joseph Scholze, 35. Hanna Raley, 36. Andrew Buhrow, 37. McKayla Adams, 38. Barry Tanner, 39. Dan Heying
Mid-Am Racing Series
Feature (25 laps): 1. Clay Curts, 2. Jim Cormack, 3. Rick Corso, 4. Timmy Stewart, 5. Dale Lecus, Jr., 6. Tony Holm, 7. John Ventrello, 8. Andrew Meyerhofer, 9. Nathan Borchardt, 10. Joey Pontbriand, 11. Mike Wienc, 12. Timmy Spatz, 13. Jim Thorson, 14. Ron Vandermier, Jr., 15. Rick Redig-Tackman, 16. Dan Gilster, 17. Joshua Fehrmann, 18. Steve Blair, 19. Aric Vandermier
Futures (8 laps): 1. Tony Holm, 2. Timmy Spatz, 3. Jim Thorson, 4. Aric Vandermier, 5. Joshua Fehrmann
Odd Dash (8 laps): 1. John Ventrello, 2. Rick Corso, 3. Dale Lecus, Jr., 4. Rick Redig-Tackman, 5. Clay Curts, 6. Nathan Borchardt, 7. Jim Cormack
Even Dash (8 laps): 1. Ron Vandermier, Jr., 2. Timmy Stewart, 3. Dan Gilster, 4. Steve Blair, 5. Mike Wienc, 6. Joey Pontbriand, 7. Andrew Meyerhofer
Qualifying: 1. Rick Corso, 2. Dan Gilster, 3. Clay Curts, 4. Ron Vandermier, Jr., 5. Rick Redig-Tackman, 6. Timmy Stewart, 7. Jim Cormack, 8. Andrew Meyerhofer, 9. Dale Lecus, Jr., 10. Steve Blair, 11. Nathan Borchardt, 12. Joey Pontbriand, 13. John Ventrello, 14. Mike Wienc, 15. Jim Thorson, 16. Timmy Spatz, 17. Tony Holm, 18. Aric Vandermier, 19 Joshua Fehrmann
Midwest Dash Series
Feature (20 laps): 1. Phil Malouf, 2. Scott Ciesielski, 3. Dan Braun, 4. Kyle Stark, 5. Karter Stark, 6. George Sparkman, 7. Tim FInstad, 8. Jake Halterman, 9. John Preston, 10. Carson Strese, 11. Ashley Bell, 12. Lyle Phillips, 13. Shawn Grabinger, 14. Joel Willhite, 15. Justin Schelitzche, 16. Josh Tanguay, 17. Andrew Rhone, 18. James Bolling, 19. Anna Malouf-Price, 20. Mark English, 21. Marek Pankow, 22. Joe Kuehn
B-Feature (12 laps): 1, Josbh Tanguay, 2. Andrew Rhone, 3. Marek Pankow, 4. Ben Thurk, 5. Anna Malouf-Price, 6. Brian Schott, 7. Dave Treu, Jr., 8. John Clauson, 9. Shawn Indrehus, 10. Rylie Mullen, 11. Sam Sheahan, 12. Caden Pankow, 13. Chris Christen
Heat #1 (8 laps): 1. Ben Thurk, 2. Josh Tanguay, 3. Dave Treu, 4. Caden Pankow, 5. Brian Schott, 6. John Clauson, 7. Shawn Indrehus, 8. Thomas Farra, 9. Chris Christen, 10. Riley Mullin, 11. Joe Halvorson?
Heat #2 (8 laps): 1. Sam Sheahan, 2. Justin Schelitzche, 3. Ashley Bell, 4. Joe Kuehn, 5. James Bolling, 6. Andrew Rhone, 7. Mark English, 8. Marek Pankow, 9. Shawn Grabinger, 10. Josh Willhite, 11. Anna Malouf-Price
Heat #3 (8 laps): 1. Phil Malouf, 2. Kyle Stark, 3. George Sparkman, 5. Scott Ciesielski, 6. Jake Halterman, 7. John Preston, 8. Tim Finstad, 9. Lyle Phillips, 10. Karter Stark, 11. Weston Strese
Qualifying: 1. Scott Ciesielski (New Track Record–22.183), 2, Phil Malouf, 3. Kyle Stark, 4. Dan Braun, 5. George Sparkman, 6. Carson Strese, 7. Karter Stark, 8. Tim Finstad, 9. John Preston, 10. Lyle Phillips, 11. Jake Halterman, 12. Mark English, 13. Joel Willhite, 14. James Bolling, 15. Ashley Bell, 16. Shawn Grabinger, 17. Justin Schelitzche, 18. Joe Kuehn, 19. Sam Sheahan, 20. Merek Pankow, 21. Andrew Rhone, 22. Anna Malouf-Price, 23. Dave Treu, Jr., 24. Josh Tanguay, 25. Caden Pankow, 26. Ben Thurk, 27. Taelis Mickelson, 28. Shawn Indrehus, 29. John Clauson, 30. Brian Schott, 31. Thomas Farra, 32. Chris Christen, 33. Rylie Mullen
Midwest Truck Series
Feature (25 laps): 1. Ty Majeski, 2. Danielle Behn, 3. Kody Hubred, 4. Paul Shafer, Jr., 5. Cody Vanderloop, 6. Kevin Knuese, 7. Jordan Thiel, 8. Bryce Miller, 9. Kevin Berg, 10. Chester Ace, 11. James Swan, 12. Jonny Holter, 13. Kevin Zielinzski, 14. Brandon Reichenberger, 15. Dillon Schwanbeck, 16. Derek Doerr, 17. Nick Roehl, 18. Evan Hassler, 19. Tim Cox, 20. Tyler Noble, 21. Eugene Gregorich III, 22. Sean Eurick, 23. Nick Quinnell
Heat #1 (8 laps): 1. Nick Roehl, 2. Evan Hassler, 3. Tyler Noble, 4. Tim Cox, 5. Sean Eurick, 6. Nick Quinnell
Odd Dash (8 laps): 1. Jonny Holter, 2. Brandon Reichenberger, 3. Paul Shafer, Jr., 4. Kevin Zielinzski, 5. Daneille Behn, 6. Bryce Miller, 7. Kevin Berg, 8. Cody Vanderloop
Even Dash (8 laps): 1. Derek Doerr, 2. Chester Ace, 3. Kevin Knuese, 4. James Swan, 5. Jordan Thiel, 6. Kody Hubred, 7. Dillon Schwanbeck, 8. Eugene Gregorich III
Qualifying: 1. Bryce Miller, 2. Jordan Thiel, 3. Kevin Berg, 4. James Swan, 5. Kevin Zielinzski, 6. Kody Hubred, 7. Paul Shafer, Jr., 8. Kevin Knuese, 9. Brandon Reichenberger, 10. Chester Ace, 11. Danielle Behn, 12. Eugene Gregorich III, 13. Cody Vanderloop, 14. Dillon Schwanbeck, 15. Jonny Holter, 16. Derek Doerr, 17. Tim Cox, 18. Evan Hassler, 19. Tyler Noble, 20. Nick Quinnell, 21. Sean Eurick, 22. Nick Roehl, 23. Ty Majeski
ARCA Midwest Tour
Last Chance Race (12 laps): 1. Tristan Swanson, 2. Griffin McGrath, 3. Harley Jankowski, 4. Ryan Farrell, 5. Dalton Zehr, 6. Justin Mondeik, 7. William Sawalich, 8. Jeremy Lepak, 9. Shaun Scheel, 10. Gregory Borchardt, 11. Levon VanderGeest
Odd Dash (8 laps): 1. Jeff Storm, 2. Dan Fredrickson, 3. Billy Mohn, 4. Casey Johnson, 5. Matthew Henderson, 6. Derek Kraus, 7. Chad Butz, 8. Andrew Morrissey
Even Dash (8 laps): 1. Dean Cornelius, 2. Cole Butcher, 3. Mark Eswein, 4. Gabe Sommers, 5. Chris Weinkauf, 6. Nick Panitzke, 7. Austin Nason, 8. Ty Majeski
Qualifying: 1. Matthew Henderson, 2. Ty Majeski, 3. Derek Kraus, 4. Nick Panitzke, 5. Andrew Morrissey, 6. Chris Weinkauf, 7. Casey Johnson, 8. Gabe Sommers, 9. Dan Fredrickson, 10. Mark Eswein, 11. Chad Butz, 12. Austin Nason, 13. Jeff Storm, 14. Cole Butcher, 15. Billy Mohn, 16. Dean Cornelius, 17. Griffin McGrath, 18. Levon VanderGeest, 19. Tristan Swanson, 20. Ryan Farrell, 21. Harley Jankowski, 22. Jeremy Lepak, 23. Justin Mondeik, 24. Gregory Borchardt, 25. William Sawalich, 26. Shaun Scheel, 27. Dalton Zehr