SPRING CLASSIC ENTRY LIST FEATURES A CHAMPIONSHIP PEDIGREE
2023-04-20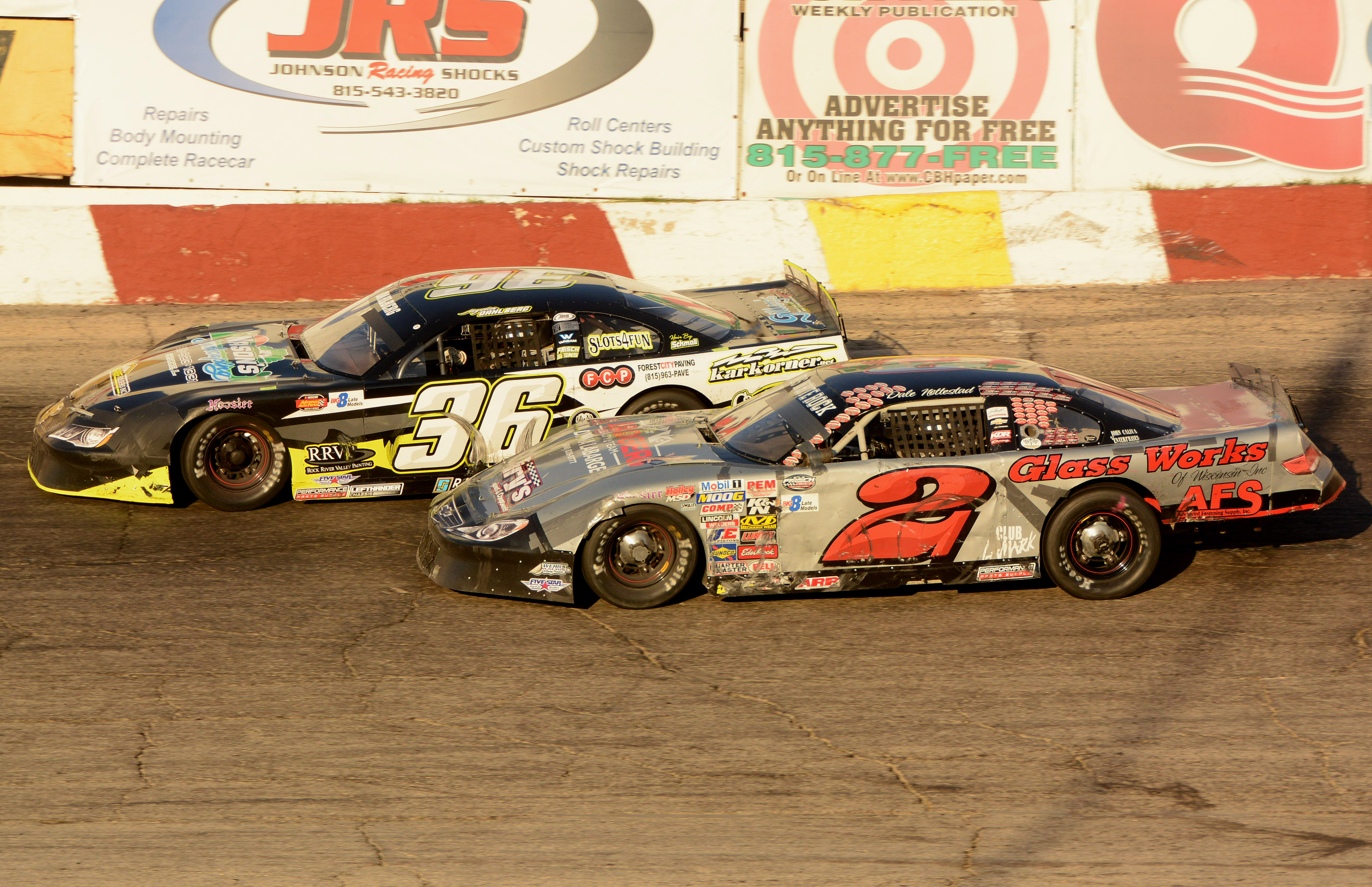 By: Russ Wheeler
When the Big 8 Late Model Series kicks off the upper Midwest asphalt racing season this Saturday night at Rockford Speedway, it will do so with a talented and distinguished group of stock car pilots.
"The Best Weekly Warriors in the Country" boasts a list of at least twenty-two entrants for this Saturday night's 88 lap season opener at the famed Rockford Speedway, including drivers who have collected more than their share of big checks and beautiful trophies over the course of their racing careers.
All told, five former Spring Classic winners are among the entrants while 34 track and series championships are represented among those who are going for the gold on Rockford's high banks. Four past Big 8 Series champions who together boast nine series' championships are set to race at Rockford with 54 Big 8 Series feature wins represented between them.
Reigning Big 8 Series champion Dale Nottestad is right at the top of the list of challengers. Nottestad, the only seven-time Late Model track champion in the history of Wisconsin's Jefferson Speedway, is also a two-time Spring Classic winner. A conquest Saturday for Nottestad would put the Cambridge Wisconsin resident in elite company, as one of just five drivers to win Spring Classic at least three times.
Last year's Spring Classic winner Max Kahler is back to defend his crown this weekend. If Kahler can go back-to-back, he would become just the sixth driver in the 46-year history of the event to win the race in consecutive seasons. Kahler has been among the best in Big 8-style Late Model racing recently at Rockford, racking up four total wins last year at the Speedway, located not too far from his hometown of Caledonia.
When speaking of drivers who have mastered Rockford Speedway in recent years, one must think of Austin Nason. The Roscoe native has captured the last two National Short Track Championships at Rockford. A win Saturday night would make Nason one of just five drivers to win all three of the major Late Model races at Rockford (The National Short Track Championship, All Star 100 and Spring Classic).
Recent Rockford Speedway track champions Jake Gille and Jon Reynolds Jr are also locked in and ready for Saturday night's Big 8 Late Model Series opener. Gille, a two-time Rockford Speedway champion, is in pursuit of his first Spring Classic win. Reynolds, who is a four-time Rockford Speedway track champion, would like to become the eleventh multi-time Spring Classic winner. Reynolds won his only Spring Classic back in 2012.
A familiar name returns to Rockford Speedway this weekend in the form of Alex Papini. The 2013 Rockford Speedway champion, Papini is gunning for his second Spring Classic win, with his only other victory in the event coming during his dominant 2013 season. Papini brings a trusty steed to the fight, racing the familiar yellow and black 02 car out of the shop of seven-time Rockford Speedway champion Ricky Bilderback.
Five-time Big 8 Late Model Series champion Jeremy Miller is back at Rockford, looking to add to his all-time Series win total. Winning has become natural for Miller in the Big 8 Series, but winning at Rockford Speedway has eluded Miller for years. The last time the Rockton native won a Big 8 Late Model Series race at Rockford Speedway was September of 2007. A win Saturday night would be Miller's seventeenth win in the Series, more than any other driver all-time.
The first time the Big 8 Late Model Series was part of Spring Classic was in April of 2005. On that Sunday afternoon, Machesney Park's Mike Beyer was the big winner. Beyer backed that up with another Spring Classic victory in 2006 and became one of the few drivers to ever win the race in consecutive years. Can the seasoned veteran pull off a third win Saturday night?
And what about Kody King? The soon-to-be 16-year-old from Clear Lake Iowa was last year's Late Model track champion at Hawkeye Downs in Cedar Rapids Iowa. A win at Spring Classic would make King one of the youngest Late Model winners in the history of Rockford Speedway.
Meanwhile, Minnesota's Grant Brown comes to Rockford with a new car and a focus on the Big 8 championship. Can Brown become just the second driver from the state of Minnesota to win a Spring Classic?
Machesney Park's Josh Thiering won last year's Star Spangled 76 at Rockford and was one among the leading feature winners during the weekly grind. Perhaps Thiering could be one of the dark horses in the 88-lap go-round.
Other challengers include last year's Big 8 Series Hard Charger and Points runner up Jerry Mueller, 2021 Big 8 Rookie of the Year Randy Sargent, South Beloit's Jayden Dahlberg (a fourth-place finisher in last year's National Short Track Championship) and Fall River Wisconsin's Hanna Raley (9th place in last year's Big 8 points and the only female driver entered in this weekends event).
The 46th Annual Spring Classic at Rockford Speedway presented by Kunes.com is this Saturday night April 22. Grandstands open at 3 PM, with qualifying set for 3:30 PM. Racing gets underway at 5 PM. Joining the Big 8 Late Models on the card is the Mid Am Racing Series and the four-cylinder Bandit Blast.
For more information on the 46th Annual Spring Classic and Rockford Speedway, please visit rockfordspeedway.com or call 815-633-1500.
For more information on the Big 8 Late Model Series, please visit big8latemodels.com.