Jon Reynolds Jr. Rules the Big 8 Late Models at Madison
2023-05-19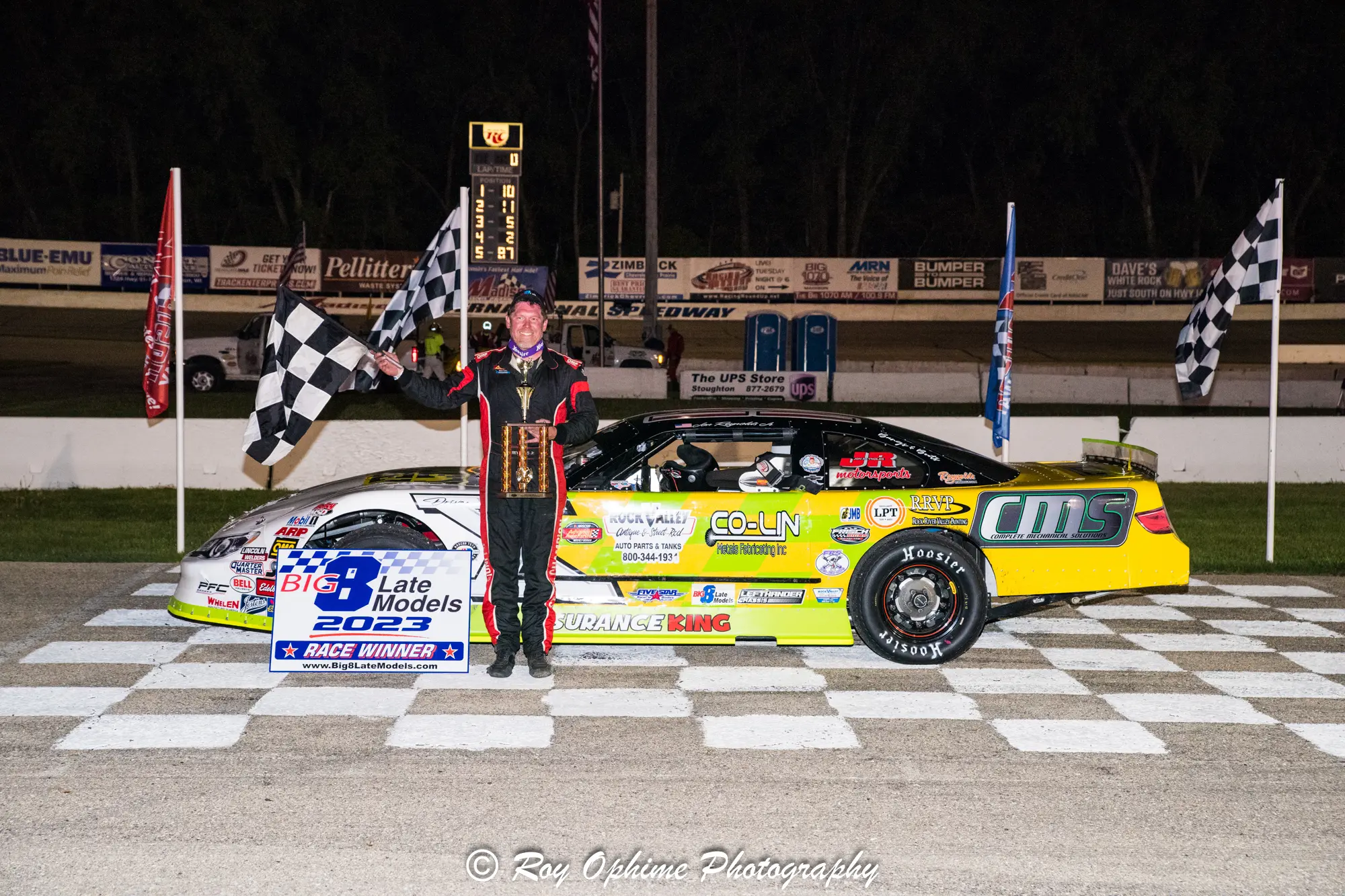 Jon Reynolds Jr. is Best of the Big 8 Late Models
Reynolds Jr. won the 48 lap main event for the Big 8 Late Models at Madison. It was his second Big 8 victory at Madison after pick up the win in 2014.
Grant Brown and Trevor Robinson brought the twenty-one car field to the green flag. Brown grabbed the early lead followed by Robinson, Kody King, and Jon Reynolds Jr. On lap 3 Reynolds Jr. moved by King for third with Brent Edmunds moving into fourth on lap 5. One lap later Reynolds Jr. cleared Robinson for second and started to go to work on Brown. On lap 7 Reynolds Jr. took the lead over Brown and jumped out to a seven car length lead. On lap 10 Bobby Wilberg and Jeremy Miller were moving up through the field. Jake Gille and Randy Sargent cracked the top five after eleven laps followed by Wilberg and Miller.
On lap 16 Gille and Sargent worked past Robinson to take third and fourth with Wilberg up to fifth on lap 18. Jake Gille past Brown for second on lap 20 with Wilberg and Miller moving up to third and fourth. But out front Reynolds Jr. was building up a big lead over Gille and Sargent. On lap 23 Sargent passed Gille for second with Miller around Gille on lap 24. Wilberg's night would end early when he pulled his car to the infield on lap 27.
The fastest car on the track at this point was Randy Sargent who was quickly closing in on Reynolds Jr and with twenty laps to go was just two car lengths behind. With lapped traffic ahead both Reynolds Jr. and Sargent were able to maneuver their way around the slower cars. With fifteen laps to go Reynolds Jr.'s lead was six lengths over Sargent with Miller in third, Gille in fourth, and Dale Nottestad in fifth.. The first caution of the night came out for a spin on lap 13.
Reynolds Jr. would bring the field back to the green with Sargent on the inside of row two and Miller on the outside. It was a great restart for Reynolds Jr. getting out front by three lengths over Sargent with Miller in third and Nottestad and Edmunds rounding out the top five. With nine laps to go, Sargent was right on the rear bumper of Reynolds Jr. with Miller right behind Sargent. Sargent gave Reynolds Jr. a tap coming out of turn two with six laps to go. With three laps to go Reynolds Jr. was able to increase his lead over Sargent and Miller but with a lapped car ahead anything could happen. The leaders were able to get by the lapped car, and despite Sargent's best effort he was unable to surpass Reynolds Jr. who took home the victory. Miller finished third followed by Nottestad and Edmunds.
"It feels good. We've been working hard and putting in a lot of hours," said Reynolds Jr. who just got back from North Carolina.
The fastest qualifier was Jeremy Miller with a lap of 18.588 (96.837 mph). Preliminary events were won by Jon Reynolds Jr. and Bobby Wilberg.