Dale Nottestad Wins Big at Madison
2023-08-08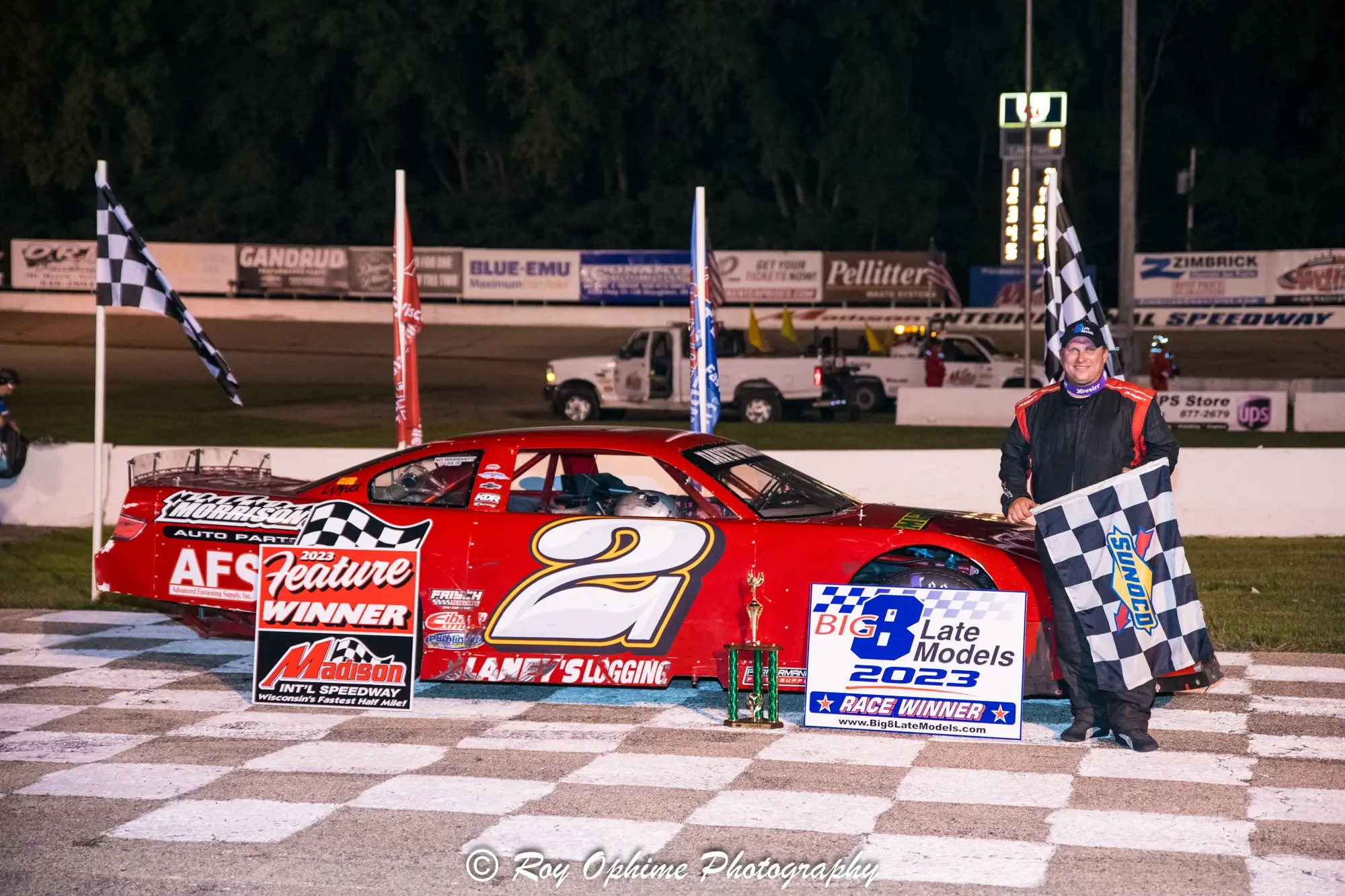 Redig-Tackman and Peschek Also Winners
(Oregon, WI )August 4, 2023 Dale Nottestad won the 48 lap main event for the Big 8 Late Model Series on Friday night at Madison as part of the Liuna! Local 464 Kids' Night. Rick Redig-Tackman won the Mid Am Racing Series feature while Adam Peschek took home the checkered flag for the 602 Outlaw Late Models.
Nearly 100 young racers took their two, three, and four wheelers onto the track during intermission for the annual kids' races with many lucky young fans also going home with prizes ranging from bikes to scooters to RC cars and more all as part of Kids' Night.
Dale Nottestad Tops the Big 8 Field at Madison
Dale Nottestad is no stranger to victory lane wherever he races and certainly not at Madison International Speedway. Tonight he captured the win in the 48 lap feature for the Big 8 Late Models earning him his fourth victory in the series at Madison. In fact, the Cambridge, Wisconsin, driver has twenty-eight wins in his racing career at Madison including fifteen in the Late Models.
Jerry Mueller and Jacob Gille led the twenty-eight car field of Big 8 Late Models to the green flag. Gille took the early lead over Mueller with the caution flag coming out after the first lap for a stalled car. Gille brought the field back to green and jumped out to an eight car length lead over Mueller, Greg Borchardt, Grant Brown, and Karter Stark.
But on lap 7 Jeremy Miller, the winningest Big 8 driver in series history, had moved up to the sixth position. Brown was able to work to the inside of Borchardt for third on lap 9 while Miller pushed his way past Stark on lap 10. On lap 11 Miller moved up to third with Brown fourth and Randy Sargent in fifth. On lap 15 Miller passed Mueller for second and set his sights on Gille. By lap 20 Miller was on the rear bumper of Gille and two laps later was looking for the lead. But for Miller it was not meant to be as disaster struck when his car expired coming out of turn four and bringing out the caution flag on lap 22. At this point it would be Mueller, Sargent, Brown, and Jon Reynolds Jr. behind Gille in the top five.
Once again Gille would lead the field back to the green flag but the race only stayed green for two laps due to a spin in turn one that brought out another caution flag. This time on the restart both Mueller and Sargent chose the inside lane behind Gille with Reynolds Jr. moving up to the outside of row two and Dale Nottestad to the outside of row three. Reynolds Jr. took the second spot following the green flag with Will Rece inside Nottestad for the fourth spot. On lap 29 Reynolds Jr. was able to take the lead from Gille shortly before a stalled car on the front stretch brought out the caution flag.
Reynolds Jr. was alone out front on the restart with Gille and Mueller choosing the inside of rows two and three while Rece and Sargent chose the outside. Reynolds Jr. maintained his lead while Rece moved past Gille for the second position. On lap 33 Sargent powered his way past Mueller for third as the top three broke away from the pack with Nottestad, Gille, and Brent Edmunds in pursuit. On lap 37 Rece and Sargent made contact bringing out the caution flag.
Bringing the field back to green would be Reynolds Jr. with the second row being Nottestad and Gille and the third row of Edmunds and Bobby Wilberg. Reynolds Jr. would keep the lead over Nottestad but not for long as Nottestad was able to take the lead going into turn three on lap 39. Nottestad, Reynolds Jr. and Edmunds distanced themselves from the rest of the field with five laps to go. Nottestad was not about to be denied as he picked up the win followed by Reynolds Jr., Edmunds, Wilberg, and Zack Riddle. Due to a disqualification in post-race tech for the third place car of Edmunds, Wilberg would officially finish third followed by Riddle and Mueller in the top five.
Setting fast-time was Zack Riddle with a trip of 18.612 (96.712 mph). Preliminary races were won by Rick Corso, Jerry Mueller, and Bobby Wilberg.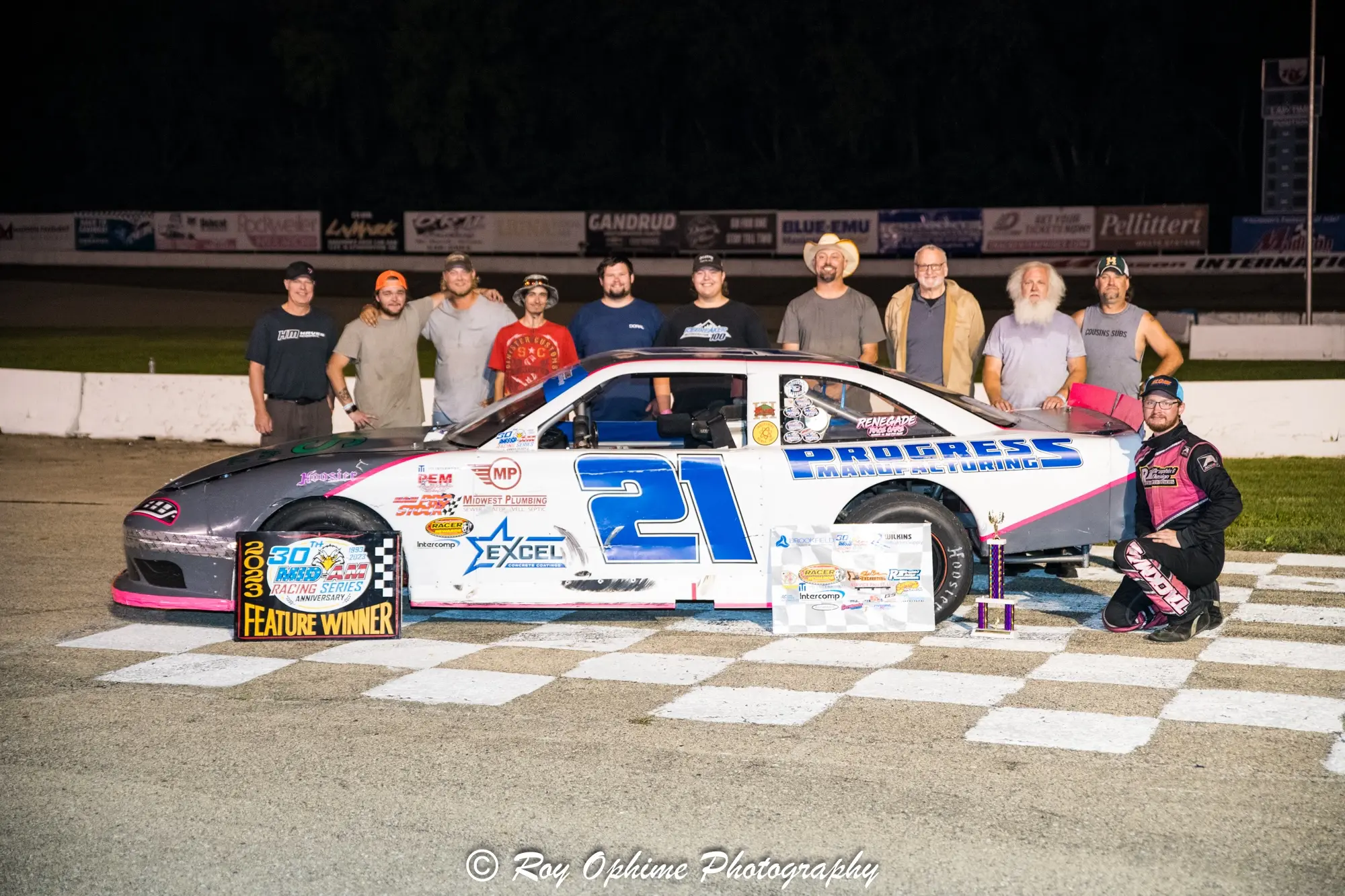 Rick Redig-Tackman Takes Home the Checkered Flag
Maybe it wasn't the traditional way of getting to victory lane and maybe he had to wait until long after the fans had departed to get his picture in victory lane, but Rick Redig-Tackman didn't mind at all when he was declared the winner of the 30 lap main event for the Mid Am Racing Series after the apparent winner, Joshua Nelms, was disqualified during post-race inspection. The win was Redig-Tackman's second in the series at Madison.
Tim Schmitt and Andrew Meyerhofer paced the twenty-four car field to the green flag. Meyerhofer jumped out to the early lead before the caution came out after a lap. Following the restart, Jeremy Spoonmore took the top spot followed by Rick Redig-Tackman and Tim Stewart. On lap 5 Joshua Nelms, who won the race at Madison earlier this year, broke into the top five and on the next lap moved into the fourth position on lap 6 followed by Ron Vandermeir Jr. Multiple spins on lap 8 brought out the second caution flag of the race.
For the restart, Spoonmore chose to line up on the outside with Redig-Tackman on the inside. The pair ran side by side with Redig-Tackman and Spoonmore taking turns leading with Nelms a close third followed by Stewart and Vandermeir Jr. At the half-way point the two continued to run side by side with Nelms in third and Stewart and Vandermeir Jr. side by side for fourth. Vandermeir Jr. would grab the fourth spot on lap 19.
Spoonmore and Redig-Tackman put on a show for the fans as they continued to race side by side taking turns getting the lead but never allowing the other to get away. Meanwhile, Nelms was patiently waiting behind them looking for the right opportunity. When the white flag waved it looked like it might be coming down to a photo finish. But on the final lap, Nelms made his move and went three-wide going into turn three and somehow found the room to get by the leaders to pick up what appeared to be the win. However, Redig-Tackman would later move up from his second position to officially take the checkered flag followed by Bill Prietzel, Spoonmore, Vandermeir Jr. and Stewart.
Clay Curts was fast qualifier with a lap of 19.584 (91.912 mph). Heat races were won by Cameron Vandermeir, Bobby Gash III, and Daniel Calhoun.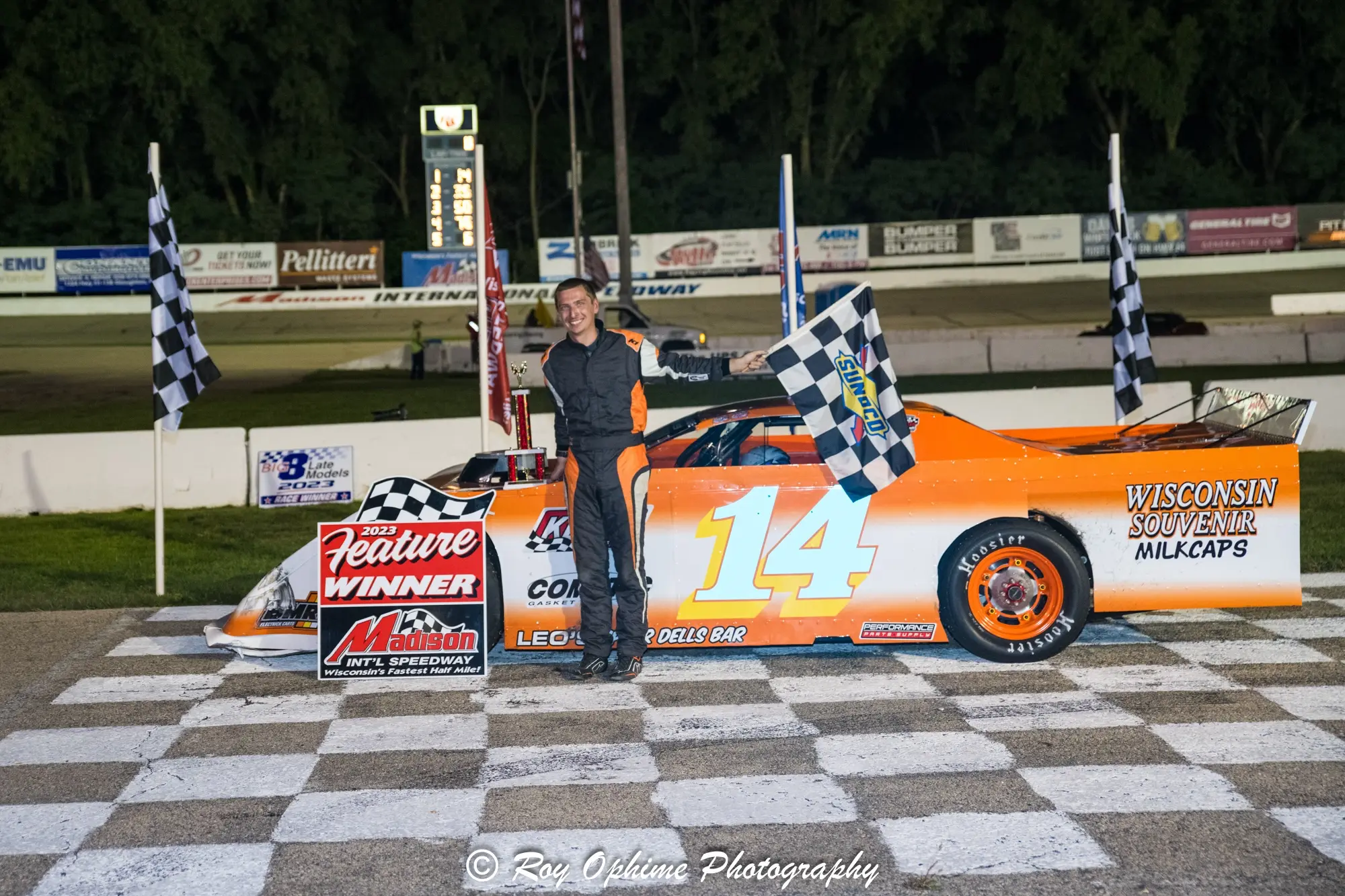 Adam Peschek Picks Up Win in 602 Late Models
Be it pavement or dirt, Adam Peschek has raced in several different divisions throughout his racing career. So tonight he came to Madison with his 602 Outlaw Late Model and picked up his first-ever win here after taking home the checkered flag in the 30 lap feature for the 602 Outlaw Late Models.
Brian Johnson Sr. and Pete Moore brought the field to the green flag. Moore quickly moved out to the early lead followed by Johnson Sr., Charlie Bates and Mike Winters. On lap 7 Winters pulled to the inside of Johnson Sr. for second with Dan Snyder and Bates side by side for fourth. The tight racing behind Moore allowed him to build his lead to twelve cars lengths after ten laps with Winters, Snyder, Adam Peschek, and Johnson Sr. An incident on lap 13 brought out the caution flag and took away Moore's large lead.
Moore, a former track champion in the Sportsman division, brought the field back to the green flag single file style and jumped back out to a two car length lead over Winters with Snyder and Peschek battling it out for third. On lap 17 Peschek moved past Winters for second and three laps later on lap 20 was ready to take the lead when he wheeled his way to the inside of Moore to take the point and by lap 23 opened up a five car length lead over Moore. However, a multi car spin on lap 24 brought out the caution flag and took away Peschek's advantage.
A double file restart saw Peschek on the inside with Moore on the outside. Peschek was able to maintain his lead with Tanner Berge up to challenge Moore for second. Peschek was just too fast as he was able to increase his lead and cruise to victory lane followed by Berge, Hunter Stenson, Moore, and Snyder.
Alex Hartwig was fastest in qualifying with a lap of 18.989. Brian Johnson Sr. and Charlie Bates were heat race winners.
Next Friday night (August 11th) Culver's of Oregon presents the Third Annual Cheese Curd Cup on the Ring of Fire. Seven racing divisions will be in action including Sportsman, Hobby Stocks, Midwest Dash, Bandits, Six Shooters, Legends and Bandoleros. Grandstands open at 6:00, qualifying at 6:15 with racing at 7:30. All residents of Oregon will be admitted free with proof of residency.
Results:
Big 8 Qualifying
1. 14ZR-Zack Riddle, 18.6120; 2. 2DN-Dale Nottestad, 18.6480; 3. 28BW-Bobby Wilberg, 18.7600; 4. 15WR-William Rece, 18.7920; 5. XJR-Jon Reynolds, 18.8240; 6. 5JM-Jeremy Miller, 18.8960; 7. 7MH-Mitch Haver, 18.8960; 8. 11RS-Randy Sargent, 18.9910; 9. 14GB-Grant Brown, 18.9980; 10. 92KS-Karter Stark, 19.0020; 11. 14KK-Kody King, 19.1500; 12. 87BE-Brent Edmunds, 19.1580; 13. 3GB-Greg Borchardt, 19.1800; 14. 3TH-Tyler Hromdka, 19.1800; 15. 27DB-Drew Bernhagen, 19.1900; 16. 13JG-Jacob Gille, 19.1920; 17. 49JM-Jerry Mueller, 19.2170; 18. 5RR-Robbie Rucks, 19.2190; 19. 36JD-Jayden Dahlberg, 19.2260; 20. 88RC-Rick Corso, 19.3030; 21. 19RO-Ronnie Osborne, 19.3560; 22. 14KT-Kyle Taylor, 19.5870; 23. 14HR-Hanna Raley, 19.5890; 24. 52SR-Shane Radtke, 19.6960; 25. 32PD-Paul Dygon, 19.9780; 26. 49MA-McKayla Adams, 20.0190; 27. 41MT-Mike Taylor, 20.0540
Big 8 Late Models – Feature 48 Laps
1. 2DN-Dale Nottestad , Cambridge, WI[13], 2. XJR-Jon Reynolds Jr, Loves Park, IL[10], 3. 28BW-Bobby Wilberg , Beloit, WI[12], 4. 14ZR-Zack Riddle , Brooklyn, WI[14], 5. 49JM-Jerry Mueller , Richfield, WI[1], 6. 11RS-Randy Sargent , South Beloit, IL[7], 7. 13JG-Jacob Gille , Winnebago, IL[2], 8. 14GB-Grant Brown , Jordan, MN[6], 9. 92KS-Karter Stark , Marshall, WI[5], 10. 19RO-Ronnie Osborne , Fitchburg, WI[16], 11. 14KT-Kyle Taylor , Stoughton, WI[22], 12. 3TH-Tyler Hromdka , Colgate, WI[21], 13. 36JD-Jayden Dahlberg , South Beloit, IL[20], 14. 52SR-Shane Radtke , Johnson Creek, WI[24], 15. 15WR-William Rece , Stoughton, WI[11], 16. 27DB-Drew Bernhagen , Markesan, WI[3], 17. 3GB-Greg Borchardt , Prior Lake, MN[4], 18. 7MH-Mitch Haver , West Bend, WI[8], 19. 99TR-Trevor Robinson , South Beloit, IL[28], 20. 49MA-McKayla Adams , Sun Prairie, WI[26], 21. 5RR-Robbie Rucks , Deerfield, WI[19], 22. 5JM-Jeremy Miller , Rockford, IL[9], 23. 41MT-Mike Taylor , Stoughhton, WI[27], 24. 88RC-Rick Corso , McHenry, IL[15], 25. 14KK-Kody King , Clear Lake, IA[17], 26. 14HR-Hanna Raley , Fall River, WI[23], 27. 32PD-Paul Dygon , Wind Lake, WI[25], 28. 87BE-Brent Edmunds , Brodhead, WI[18]
Big 8 Late Models – Odd Heat 8 Laps
1. 88RC-Rick Corso , McHenry, IL[1], 2. 13JG-Jacob Gille , Winnebago, IL[3], 3. 3GB-Greg Borchardt , Prior Lake, MN[4], 4. 14GB-Grant Brown , Jordan, MN[6], 5. 5RR-Robbie Rucks , Deerfield, WI[2], 6. 14KK-Kody King , Clear Lake, IA[5], 7. 3TH-Tyler Hromdka , Colgate, WI[7], 8. 14HR-Hanna Raley , Fall River, WI[8], 9. 32PD-Paul Dygon , Wind Lake, WI[9], 10. 41MT-Mike Taylor , Stoughhton, WI[10]
Big 8 Late Models – Even Heat 8 Laps
1. 49JM-Jerry Mueller , Richfield, WI[3], 2. 19RO-Ronnie Osborne , Fitchburg, WI[1], 3. 92KS-Karter Stark , Marshall, WI[6], 4. 27DB-Drew Bernhagen , Markesan, WI[4], 5. 14KT-Kyle Taylor , Stoughton, WI[7], 6. 99TR-Trevor Robinson , South Beloit, IL[10], 7. 49MA-McKayla Adams , Sun Prairie, WI[9], 8. 52SR-Shane Radtke , Johnson Creek, WI[8], 9. 36JD-Jayden Dahlberg , South Beloit, IL[2], 10. 87BE-Brent Edmunds , Brodhead, WI[5]
Big 8 Late Models – Fast Heat 8 Laps
28BW-Bobby Wilberg , Beloit, WI[2], 2. 2DN-Dale Nottestad , Cambridge, WI[3], 3. 15WR-William Rece , Stoughton, WI[1], 4. 5JM-Jeremy Miller , Rockford, IL[6], 5. XJR-Jon Reynolds Jr, Loves Park, IL[5], 6. 7MH-Mitch Haver , West Bend, WI[7], 7. 11RS-Randy Sargent , South Beloit, IL[8], 8. 14ZR-Zack Riddle , Brooklyn, WI[4]
Mid Am Qualifying
(1-10) Clay Curts, Joshua Nelms, Ron Vandermeir Jr. Dale Lecus, Tim Stewart, Bill Prietzel, Jeremy Spoonmore, Rick Redig-Tackman, Andrew Meyerhofer, Tim Schmitt
(11-20) Daniel Calhoun, John Ventrello, Jim Cormack, Connor Kosowski, Nick Bruley, Kevin Murphy, Ken Calhoun, Steve Blair, Mike Wienc, Bobby Gash III
(21-26) Cameron Vandermeir, Nathan Borchardt, Jim Thorson, Timmy Spatz, Brandon DeLacy, Keegan Bush
Mid Am Racing – Feature 30 Laps
21RT-Rick Redig-Tackman , Hartford, WI, 2. 5BP-Bill Prietzel , Hubertus, WI] 3. 22JS-Jeremy Spoonmore , Sycamore, IL 4. 3RV-Ron Vandermeir Jr, Sheridan, IL, 5. 18TS-Tim Stewart , Gary, IN 6. 88CC-Clay Curts , Monee, IL, 7. 4DC-Daniel Calhoun , Johnsburg, IL, 8. 427KM-Kevin Murphy , Joliet, IL, 9. 76BG-Bobby Gash III, Orland Park, IL[, 10. 99DL-Dale Lecus Jr, Caledonia, WI, 11. 14AM-Andrew Meyerhofer , Kaukauna, WI 12. 16JV-John Ventrello , Morris, IL, 13. 7JC-Jim Cormack , Plover, WI, 14. 32CV-Cameron Vandermeir , Sheridan, IL, 15. 4NB-Nathan Borchardt , Prior Lake, MN, 16. 43CK-Connor Kosowski , Chicago, IL, 17. 99JT-Jim Thorson , Sugar Grove, IL, 18. 54TS-Timmy Spatz , Hanover Park, IL 19. 119BD-Brandon Delacy , Stoughton, WI, 20. 99TS-Tim Schmitt , Muskego, WI, 21. 41KC-Ken Calhoun , Johnsburg, IL, 22. 74SB-Steve Blair , Speedway, IN[, 23. 67KB-Keegan Bush , Hartford, WI, 24. 01JN-Joshua Nelms , Lockport,
Mid Am Racing – Futures Heat 8 Laps
1.32CV-Cameron Vandermeir , Sheridan, IL[1], 2. 99TS-Tim Schmitt , Muskego, WI[3], 3. 4NB-Nathan Borchardt , Prior Lake, MN[2], 4. 54TS-Timmy Spatz , Hanover Park, IL[4], 5. 119BD-Brandon Delacy , Stoughton, WI[5], 6. 67KB-Keegan Bush , Hartford, WI[6
Mid Am Racing – Even Heat 8 Laps
1. 76BG-Bobby Gash III, Orland Park, IL[1], 2. 74SB-Steve Blair , Speedway, IN[2], 3. 16JV-John Ventrello , Morris, IL[5], 4. 21RT-Rick Redig-Tackman , Hartford, WI[7], 5. 99DL-Dale Lecus Jr, Caledonia, WI[9], 6. 01JN-Joshua Nelms , Lockport, IL[10], 7. 427KM-Kevin Murphy , Joliet, IL[3], 8. 43CK-Connor Kosowski , Chicago, IL[4], 9. 5BP-Bill Prietzel , Hubertus, WI[8], 10. 99TS-Tim Schmitt , Muskego, WI[6]
Mid Am Racing – Odd Heat 8 Laps
1. 4DC-Daniel Calhoun , Johnsburg, IL[5], 2. 22JS-Jeremy Spoonmore , Sycamore, IL[7], 3. 3RV-Ron Vandermeir Jr, Sheridan, IL[9], 4. 88CC-Clay Curts , Monee, IL[10], 5. 18TS-Tim Stewart , Gary, IN[8], 6. 7JC-Jim Cormack , Plover, WI[4], 7. 14AM-Andrew Meyerhofer , Kaukauna, WI[6], 8. 41KC-Ken Calhoun , Johnsburg, IL[2], 9. 76BG-Bobby Gash III, Orland Park, IL[11], 10. 40MW-Mike Wienc , Janesville, WI[1], 11. 23NB-Nick Bruley , Johnson Creek, WI[3]
602LM – Feature 30 Laps
14AP-Adam Peschek , Oconomowoc, WI[9], 2. 35TB-Tanner Berge , Elkhorn, WI[8], 3. 50HS-Hunter Stenson , Wisconsin Dells, WI[14], 4. 76PM-Pete Moore , McFarland, WI[4], 5. 6DS-Dan Snyder , Stoughton, WI[5], 6. 34CB-Charlie Bates , Wisconsin Dells, WI[6], 7. 17BJ-Brian Johnson Sr, Machesney Park, IL[1], 8. 78MH-Mason Hellenbrand , Verona, WI[2], 9. 23BU-Brian Ulrich , Racine, WI[13], 10. 77MW-Michael Winters , Madison, WI[3], 11. 23DE-Dave Edwards , Salem, WI[11], 12. 901AH-Alex Hartwig , Portage, WI[10], 13. 5RC-Rick Coppernoll , Stoughton, WI[12]
Qualifying
1. 901AH-Alex Hartwig, 18.9890; 2. 14AP-Adam Peschek, 19.0480; 3. 35TB-Tanner Berge, 19.1650; 4. 67RH-Ray Hellenbrand, 19.2980; 5. 34CB-Charlie Bates, 19.3530; 6. 6DS-Dan Snyder, 19.3830; 7. 76PM-Pete Moore, 19.3880; 8. 77MW-Michael Winters, 19.4140; 9. 78MH-Mason Hellenbrand, 19.5390; 10. 17BJ-Brian Johnson, 19.5880; 11. 23DE-Dave Edwards, 19.7470; 12. 5RC-Rick Coppernoll, 19.8080; 13. 23BU-Brian Ulrich, 19.9540
602LM – Heat 1 8 Laps
1. 17BJ-Brian Johnson Sr, Machesney Park, IL[3], 2. 77MW-Michael Winters , Madison, WI[5], 3. 76PM-Pete Moore , McFarland, WI[6], 4. 78MH-Mason Hellenbrand , Verona, WI[4], 5. 23DE-Dave Edwards , Salem, WI[2], 6. 23BU-Brian Ulrich , Racine, WI[7], 7. 5RC-Rick Coppernoll , Stoughton, WI[1]
602LM – Heat 2 8 Laps
1. 34CB-Charlie Bates , Wisconsin Dells, WI[2], 2. 35TB-Tanner Berge , Elkhorn, WI[4], 3. 901AH-Alex Hartwig , Portage, WI[6], 4. 50HS-Hunter Stenson , Wisconsin Dells, WI[7], 5. 67RH-Ray Hellenbrand , Verona, WI[3], 6. 14AP-Adam Peschek , Oconomowoc, WI[5], 7. 6DS-Dan Snyder , Stoughton, WI[1]