MILLER'S TIME ARRIVES AT THE NATIONAL SHORT TRACK CHAMPIONSHIPS
2023-10-02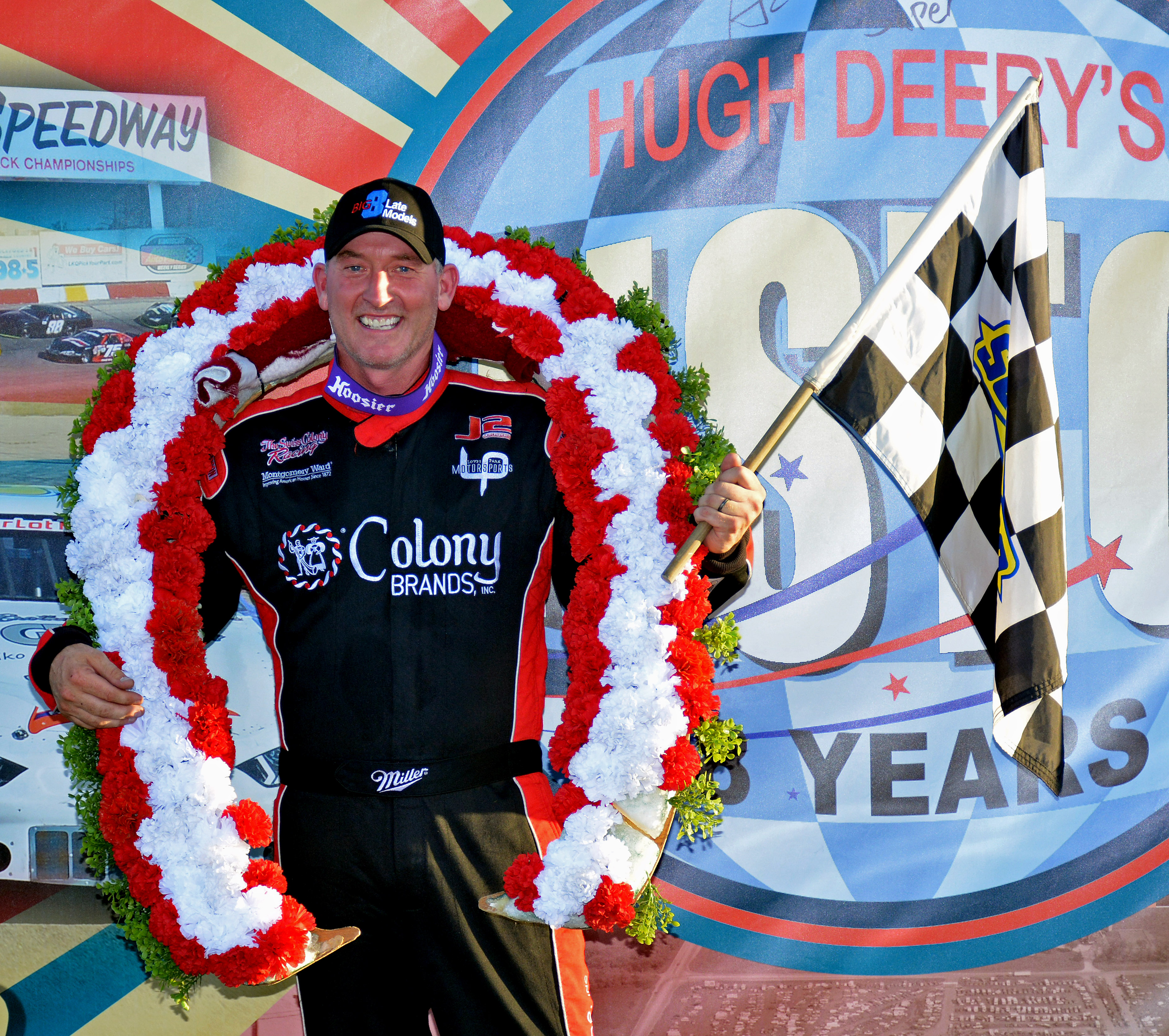 By: Stan Kalwasinski
Loves Park, Ill., October 1—Jeremy Miller etched his name into the record books during Rockford Speedway's Last Lap Season as he captured the National Short Track Championships late model stock car special at the historic speedway Sunday afternoon.
The 58th running of the race saw the 43-year-old Miller, a Rockford resident, win the 158-lap Big 8 Late Model Series contest at the banked, quarter-mile, paved oval – becoming the 33rd different and final winner of the annual Midwest classic dubbed over the years as "One Great Racing Weekend.
Miller, a five-time Big 8 titlist but winless at Rockford since 2007, wheeled his Kar Korner/Colony Brands/Montgomery Ward/Stewart Automotive/Loves Park Motorsports-sponsored, Joe Hunter-owned Ford No.5 to the victory, holding a 1.970-second margin at the finish over second place-runner Randy Sargent. 2013 Rockford champ Alex Papini, Jesse Bernhagen, two-time track champion Jake Gille and five-time champ, including this year's title, Jon Reynolds Jr. rounded out the "top six" in the 25-car field.
After honorary starter "Jumpin' Jack" Heiman waved the green flag, Shane Radtke, coming from his front row pole starting spot, led the first 24 laps with Gille moving into the lead briefly with Dale Nottestad taking over on lap 26. Winner of the last two NSTC contests, Austin Nason, this event's fastest qualifier, dropped out during the warmup laps and didn't complete one green flag lap.
Nottestad, looking for his first NSTC victory, looked in control and built a comfortable margin, with the likes of Gille, Sargent, Miller, Papini and Michael Bilderback giving chase. With 80 laps complete, a mandatory pit stop took place on the main straightaway with crews refueling and making chassis adjustments for the final half of the race.
Miller hustled by Gille for second place after the restart with Nottestad still running strong. Miller began to peck away at Nottestad's lead with 30 laps to go. Suddenly with 29 laps remaining, Nottestad's Chevy began to backfire and pop with the leader coming to a halt in turn one. Nottestad was pushed to the pits with Miller inheriting the lead, a lead he would not relinquish.
"I was catching him (Nottestad)," said Miller. "I was running maybe a tenth (of a second) better than him. If I was going to get him, wewere going to have to play a little rough. I was going to have to do a little "Rockford Racing." I don't know if I could have got him. He got off the corners good.
"This is huge – my biggest win. The team put so much into this, a lot of testing. Even this morning, we were making changes. We made maybe 90 percent the right change and then at the break we went the other 10 per cent and last half of the race the car was really good."
One more race remains for the Big 8 Late Model Series in the 2023 campaign, with a stop at La Crosse Fairgrounds Speedway on tap as part of the annual Oktoberfest Race Weekend this Saturday night October 7th. Heading into La Crosse, Jon Reynolds Jr holds a 38 point advantage over Randy Sargent for the Championship while Greg Borchardt has already locked up the 2023 Big 8 Late Model Series Rookie of the Year award.