KAHLER CONQUERS SPRING CLASSIC!
2022-04-25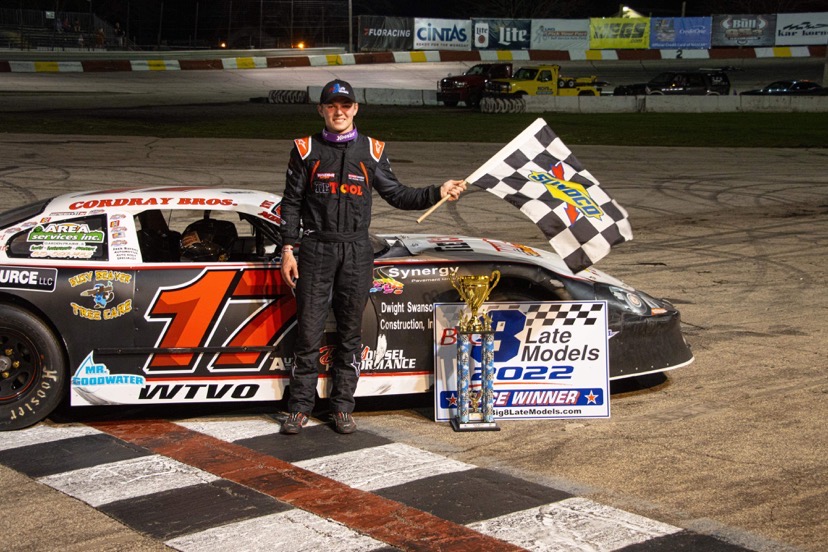 By: Russ Wheeler
Max Kahler turned in a nearly flawless performance at Rockford Speedway's 45th Annual Spring Classic Saturday night.
The 19-year-old from Caledonia Illinois was the fastest car in practice and backed that up by setting the fastest time in Qualifying and then dominated the 88-lap season opening race for the Big 8 Late Model Series en route to his second career Series victory.
Kahler, who started in the tenth position, avoided some early race chaos, and pounced forward on a lap 2 restart, putting himself into position to jump to the race lead on the eighth lap. Over the course of the race's final 80 laps, Kahler was able to outrun and outlast his competition while speeding to a first-place payday of $2,088.
Dale Nottestad, the 2021 Spring Classic winner, was right in the middle of the early race chaos that Kahler was able to avoid. Nottestad's involvement in that accident sent him and several other cars to the tail of the field. Over the course of the race's final 86 laps, Nottestad methodically marched from the rear of the field to a second-place finish.
Rockford Speedway regular Dennis Smith Jr turned in a solid run, earning third place. Two-time Series champion Casey Johnson came home fourth after getting past Jim Olson in the race's final five laps. Olson hung on to fifth place ahead of Franc Beldowski, who finished sixth.
Stephen Scheel's persistent performance at Spring Classic saw him advance from an 18th place starting spot to a seventh-place finish, earning himself a $100 bonus as the Powersource Racing Engines 'Power Mover of the Race.'
The next event for the Big 8 Late Model Series is "Clash at the Downs VIII" at Hawkeye Downs in Cedar Rapids Iowa on Friday night June 3.
For more information on the Big 8 Late Model Series, please visit big8latemodels.com.
---
Official Race Results

45th Annual Spring Classic

Saturday April 23 2022

Rockford (IL) Speedway

Finish

Car #

Driver

Hometown

Laps

1

17

Max Kahler

Caledonia, IL

88

2

2

Dale Nottestad

Cambridge, WI

88

3

O8

Dennis Smith Jr

South Beloit, IL

88

4

5

Casey Johnson

Edgerton, WI

88

5

24

Jim Olson

Harvard, IL

88

6

61

Franc Beldowski

Rockford, IL

88

7

4

Stephen Scheel

Lake Mills, WI

88

8

15

Will Rece

Stoughton, WI

88

9

49

Jerry Mueller

Richfield, WI

88

10

25

Willie Nelson

Solon Mills, IL

87

11

42

Adam Cartwright

Rockford, IL

87

12

7

Jerry Stafford

South Beloit, IL

86

13

75

Mike Beyer

Machesney Park, IL

85

14

6

Owin Giles

New Market, MN

73

15

36

Jayden Dahlberg

South Beloit, IL

56

16

13

Brandon Laing

South Beloit, IL

50

17

14

Austin Nason

Roscoe, IL

42

18

14K

Kody King

Clear Lake, IA

42

19

X

Jon Reynolds Jr

Loves Park, IL

33

20

2

Randy Sargent

South Beloit, IL

32

21

17

Mark Simonsen

Crystal Lake, IL

32

22

1

Josh Thiering

South Beloit, IL

19

23

93

John Beinlich

Carol Stream, IL

16

24

7

Mitch Haver

West Bend, WI

1

Fast Time: Kahler (13.641 seconds)

Prelim winners: Nottestad, Beyer, Rece, Stafford, Haver

Car Count: 28 Big 8 Late Models
---
Big 8 Late Model Series Point Standings (Top 10)

(as of April 25 2022)

1

Max Kahler

129

2

Dale Nottestad

107

3

Dennis Smith Jr

104

4

Franc Beldowski

97

5

Casey Johnson

92

6

Jim Olson

87

7

Stephen Scheel

84

8

Will Rece

81

9

Jerry Mueller

75

10

Austin Nason

72