NASON NABS SECOND STRAIGHT NSTC
2022-10-03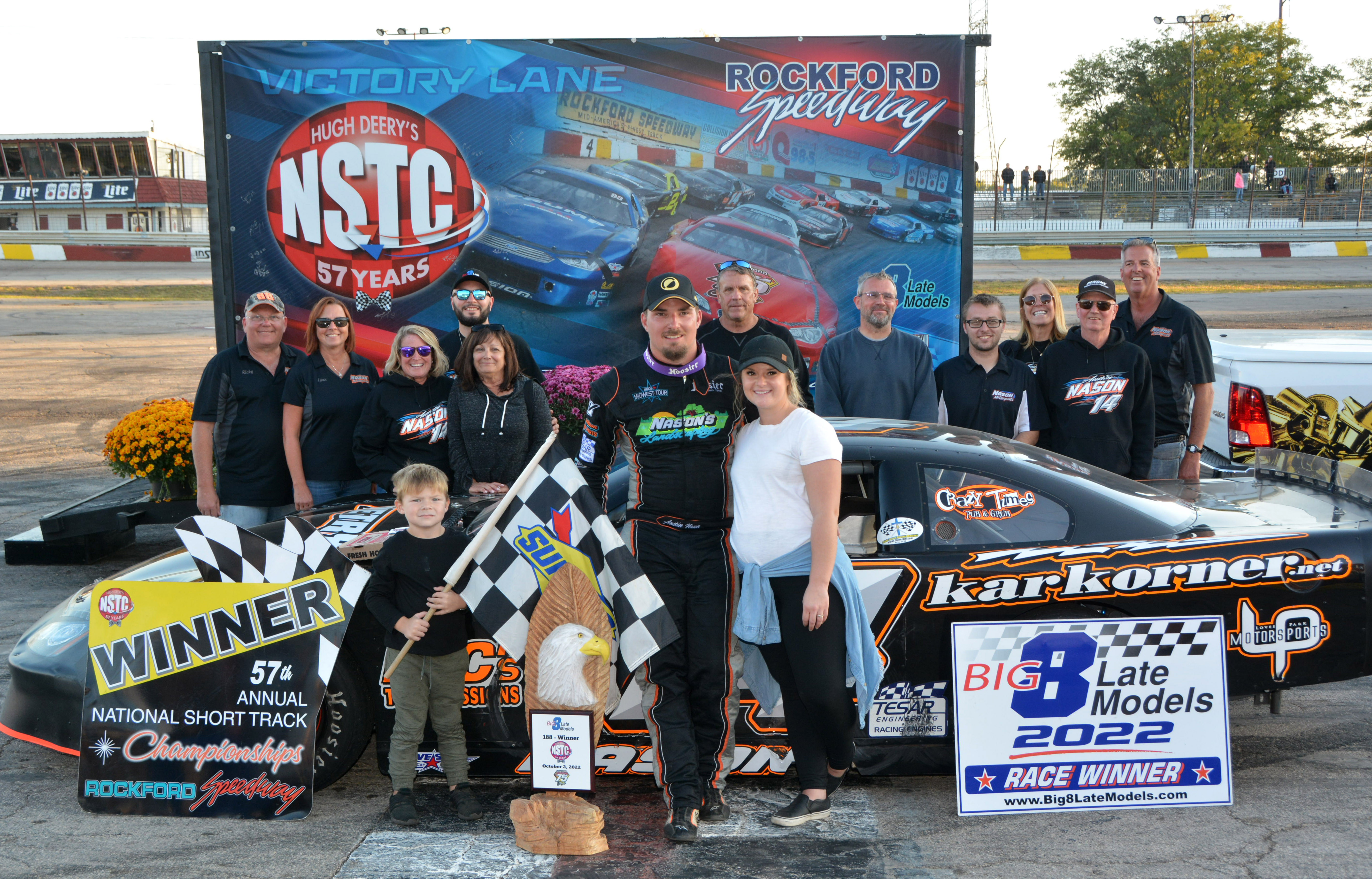 Story & Photo by: Stan Kalwasinski
Loves Park, Ill., October 2—Austin Nason raced to his second consecutive National Short Track Championship victory at the Rockford Speedway Sunday afternoon, winning the 188-lap main event for Big 8 Late Model Series competitors as the speedway hosted its 57th annual year-end stock car special.
Nason joined the likes of Joe Shear, Dick Trickle, Steve Carlson, Eddie Hoffman, Jeremy Lepak and Alex Prunty as drivers who have won back-to-back NSTC races at the high-banked, quarter-mile, paved oval.
The 26-year-old Nason, from Roscoe, Ill., wheeled his karkorner.net/Erickson Auto Parts/B&C's Transmissions/Loves Park Motorsports-sponsored, Dodge-powered, Dodge No. 14 to the victory, taking the checkered flag with 1.762-second advantage over Max Kahler, who was the NSTC champion in 2020.
Dale Nottestad, 2022 Rockford champion Jake Gille, Jayden Dahlberg, Franc Beldowski and Jerry Mueller chased the leading duo at the end with Nottestad being dropped to eighth place in the official run-down for replacing a tire during a late-race caution period. Numerous yellow and red flags incidents slowed the race, which saw a field of
24 cars start with only nine running at the finish.
At one time, Nason had a full straightaway lead over the rest of the field, only to lose his commanding margin because of multiple yellow flags. Nason moved into the lead on lap 41, racing inside of Kahler for the top spot.
As the race wound down, Nason found himself being pressured by three-time Rockford late model titlist Michael Bilderback. With eight laps to go, Bilderback got into Nason, sending the leader spinning.
Bilderback, whose car was wrecked in the ensuing melee, "tapped out" – taking responsibility for the spin and putting Nason back into the number one spot.
"It was a tough one," said Nason about his tangle with Bilderback.
"It started here at the start-finish line and kind of escalated into turn one. Mikey and I kind of grew up together. It was racing. I was trying to give him as much (room) as I could.
"We really had a good car all weekend. This thing unloaded fast and I think we were the fastest in practice all day Thursday and Friday and set fast time Saturday. We didn't really change much."